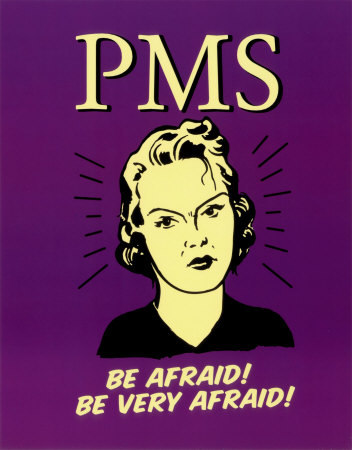 [source]
I haven't been able to sleep for the past two hours. No, it isn't due to a bad dream nor the fact that I'm over-analyzing yet again. This time, it's merely a case of good ol' period cramps. Sorry for too much information here, but holy OUCH. The "dot" (as my mom likes to call it) sure is comin' in like a lion just like the weather. But luckily, I've got some all-natural home remedies to make these next few days as comfortable as possible, and hopefully as the saying goes it'll go out like a lamb and I'll move on with my life.
Until then, here are a few tips to deal with "it" on your own – you know the healthy, easy, all-natural way. Hope they help!
For the Bloat: Let's face it, being bloated is one of the absolute worst things for a woman. There's nothing fun about going to bed feeling good about yourself, then waking up feeling like you're about to give birth to a very large food baby. Not to mention the swelling, the pain and the fact that your favorite jeans won't zip. Looks like it's yet another day for leggings! Then again, you could always do the whole "unbutton your pants" trick but I don't think your coworkers will appreciate that. Anyway, back to the point. You are not doomed to be bloated for good! Here are my fave remedies:
Sip on herbal tea throughout the day. I find peppermint, chamomile and ginger are the most soothing for times like these. Tea can help relax the stomach and make it easier for you to digest food throughout the day.
Carry around a LARGE water bottle throughout the day, and keep refilling it…constantly. I don't know what I'd ever do without my Life is Good nalgene.
Run it out. I know this may be the last thing on your mind, but exercising helps loosen the muscles and reduce bloating tremendously. Throw on your sneakers and go for a nice, easy walk or run. You'll get some fresh air too!
Eat lots of water-rich fruits and veggies like berries, watermelon, cantaloupe and cucumber. This'll help flush all the bad stuff out of your system!
For the Cramps: Usually I don't get too crampy, but this morning is definitely an exception, and it's totally not fun. I feel like I can't even get out of my bed. It's that bad. While I'd love to stay in bed all day under the covers watching sodes of Sex and the City, that's totally not going to happen. Fortunately I've got some cures for those awful cramps as well:
Use a heating pad, or a homemade corn bag like the one I have on my tummy right now. I've been a huge fan of corn bags since high school, as they are my go-to cure for cramps, bad days and stomach aches. Just heat it up in the mic for a few minutes and lay it on your stomach for instant relief.
Chew on some ginger or sip on some hot ginger tea. This miracle herb is known to help all kinds of belly troubles, including bloating, gas, nausea and of course cramps. Forget Tums! Tame your pain the natural way.
Go for a walk. It will loosen up tight muscles, in effect reducing your cramps tremendously.
Lie down and breathe. Simple yoga stretches work wonders on cramps as well!
Make like a kid and take a warm bath. Add in some aromatherapy perfumes for ultra relaxation. Ahh…
For the 'Tude:
Read a book or something else that will distract you, and help engage your mind on something else.
Sweat it out with a kickboxing or cycling class. Punch away your anger 'n' stress!
Treat yourself to your favorite comfort food. C'mon...it's only one day.
Deep breaths. OK, now take another. Now doesn't that feel good?
Yoga! Sign up for a class tonight.
Clean the house (or even just your room). It's amazing what that can do your for mood!
Stay far away from your boyfriend. Kidding. Sorta.
What are your go-to miracle tips when dealing with "Aunt Flow?" Please share (Don't be shy)!