Happy Friday everyone. Hope you all had a good week, or at least managed to get by. Since it's Friday and on Fridays I share my favorite things of the week, here goes!
Coconut Oil: Ever since The Boy sifted through my hundreds of perfumes and lotions and told me how bad for my skin/body they are, I've been extra conscious of reading labels. Do you know how many toxins are in that stuff? I get most of my creams from Bath & Body and Victoria's Secret but was clueless as to what was in it and how many ingredients they contained. If I wouldn't eat something bad for my body/with ingredients I can't pronounce, then why the heck would I put it on my skin? Big no no in the health realm.
Anyway, I discovered the two tubs of coconut oil I've had in my cabinet forever, and decided to have a little fun with them. First I hit up Google to research the benefits of coconut oil, and was amazed at how many there are! From being used as an eye makeup remover and moisturizer to hair conditioner and a digestion aid, coconut oil is THE BOMB when it comes to all natural remedies. It felt so good on my sensitive skin when I used it to remove my heavy mascara last night, and I even put some in my hair and it still feels silky – not to mention smells absolutely delicious – this morning. Go coconut oil! Who knew?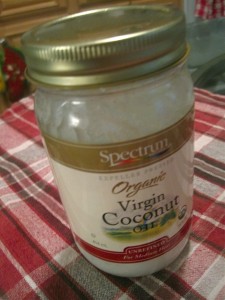 Pretty Nail Polish: Ever since my roommate and I came across this gorgeous nail polish color in a magazine – Ballet Slippers by Essie -we've been dying to get our hands on some. How perfect is this color for spring? And since it's a nude pink, it can be professional, pretty and sexy all at the same time. Unfortunately we didn't have any colors even resembling a pale pink, so we settled for some purples, pinks and oranges we found around the apartment. Still pretty, and fun if I do say so myself!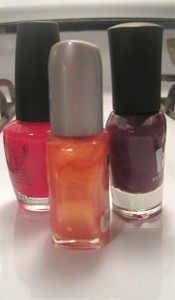 Flowery Dresses & Scarves: The other day on my lunch date, I wanted to look pretty and wear a dress, but knew it was 40 degrees out still. But when the sun is out, I still find any excuse to wear a dress so I made some modifications. I wore my favorite spring dress with a grey button-down sweater, brown leggings and my favorite brown boots. Not too shabby. Have you broken out any of your spring-wear yet? Are you one of those girls who wear dresses all throughout winter? 'Cause I sure try to!
Restaurant Week Boston: Seriously, what is better than a whole two weeks…dedicated to discounted meals at all the best restaurants in the city? This is my first year taking part in Restaurant Week Boston and I couldn't be more excited. This afternoon I have a special date planned at The Melting Pot with two very special people. I've never been to The Melting Pot before, so I can't wait to get my dipping on! For just $20.11 you get a three course fondue experience: your choice of salad, main entree (I'm totally going for the Chicken Provencal and Chicken & Vegetable Potstickers) and my favorite part: dessert. I'll be sure to take lots of pictures and let you know how it goes! Have any of you ever been to The Melting Pot? I've been dying to go for months!
Love Generation: This song by Bob Sinclar is getting me through the morning. It's so feel-good and springy. Totally loving it. Download and listen to it here. Oh, and if you need another pick-me-up, check out one of my favorite posts from the past "Bring Your Inner Beauty OUT." Reading it always makes me feel good!
What are you loving this week? You know I always love to hear all your thoughts!
XoXo,