I have a huge crush on granola. I absolutely love the taste, crunch and satisfaction it brings on a dull weekday afternoon. However, I do not love the nutritional content in many store-bought varieties.
While you may be tempted to buy the brands that claim they're "low fat" or "sugar free" or "zero grams trans fat!" I highly encourage you to read the ingredients and nutritional value on the back of the box. If you look carefully, you'll see that many contain unnecessary added ingredients, artificial sweeteners, a heaping amount of sugar, and ultimately a huge disappointment.
Take Kellogg's Lowfat Granola with Raisins for example, which contains whole grain rolled oats, whole grain wheat, sugar, rice, corn syrup, raisins, almonds, glycerin, palm oil, molasses, modified corn starch, salt, cinnamon, nonfat milk, malt flavoring, polyglycerol esters of fatty acids, BHT for freshness, and guar gum. A 2/3 c. serving will tally up to 230 calories, and 17 grams of sugar.
When you look above, you can see that sugar is the third ingredient listed (after oats and wheat) making it one of the main ingredients in this granola. Not to mention the added corn syrup (a relative of high fructose corn syrup with similar initial processing), molasses, modified corn starch (physically or chemically treated starch) and BHT (Butylated Hydroxytoluene), a potentially dangerous, hard-to-digest additive to lengthen shelf life of food and even makeup.
After being appalled by some of these findings, I decided to take matters into my own hands (and my own kitchen) by making homemade granola. I control the ingredients, nutritional content, and essentially what's going inside my body. It's a win-win-win situation!
Homemade Blueberry Flax Granola*
*Makes about 7 cups granola
Ingredients:
4 cups oats
1 cup ground flaxseed
1 cup slivered almonds
1/2 cup raw sunflower seeds
1 teaspoon cinnamon
½ tsp nutmeg
1/4 teaspoon sea salt
¼ cup coconut water (I used Original Vita Coco)
1/3 cup raw agave syrup
1/8 cup olive oil
1/8 cup pure vanilla
1/3 cup water
1 cup dried blueberries (natural, without any added sugar) You can also use fresh blueberries, or add any other fruit of choice
~makes about 7 cups
1 Preheat the oven to 300 degrees. In large mixing bowl, stir together oats, nuts, flaxseed, salt and spices.
2. Slowly add in olive oil, agave, water, coconut water and vanilla, mixing in evenly.
Toss until well combined.
3. Spread the mixture evenly on a lined baking sheet, and bake for 40 minutes or until lightly browned, stirring every 10 minutes to prevent sticking or burning.
4. Let the granola cool and mix in the dried fruit.
Store in an airtight container for snacking the entire week for yourself, your family or your friends!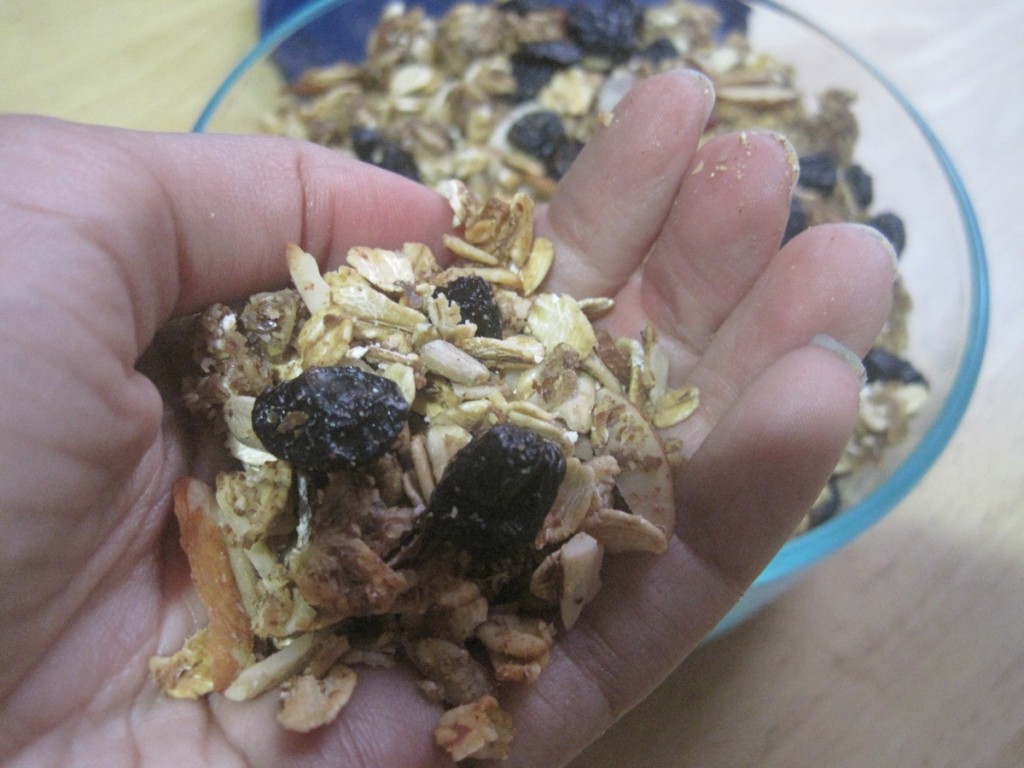 Enjoy as a snack, or add to your yogurt, milk or fruit for a delicious treat.…