[source]
When Kathy over at Boston Sports Woman let me in on this blogger contest over at 4all by jofit, I was immediately in. 4all is all about performing your ultimate best without sacrificing your looks i.e. running that 5K in style rather than hidden away in your boyfriend's old T shirt (with pit stains, gew). And now I have the chance to score a spot on the Team 4all roster as a Brand Ambassador. Really, could a gal be more excited?
OK, let's get to it. Here is the writing prompt: "Tell us why you should have a spot on our roster. What or who inspired you to start a fitness/sports routine and how are you planning to gain power in the New Year?"
Let's see. While I have a blog called "Healthy Chicks," I wasn't always a healthy chick myself. Growing up in a family who loves to eat (and cook) I never worried an ounce about my diet and pretty much ate whatever I wanted. I also didn't really have any sort of fitness routine…at all. Sure, I swam on the summer swim team and dabbled in rec basketball, but I never really found my niche.
Come college, I realized I could no longer eat the way I did without incorporating fitness into my life as well. So, I got serious. I cut out carbs, limited my daily caloric intake and hit the gym for hours at a time every day. I wanted to fit in and look like every other sorority girl: skinny, pretty and popular. It didn't take long to realize that what I was doing to myself was absolutely detrimental to my health.
Being "skinny," obsessing over my weight, and living at the gym does not equal a healthy lifestyle. Unfortunately, it wasn't until after I graduated college that I realized that and opened my eyes, finally developing a fitness regime for me. Not for the frat guys. Not for my family. Not for the attention. This time it was all for me. And after all, that's what 4all is all about: performing, looking and feeling your very best.
Once I started developing healthy fitness habits for myself, I noticed a remarkable difference in my body, and most of all my confidence. I joined a gym, began to incorporate strength training into my weekly routine, and started to lift heavy weights (without worrying I'd bulk up like a man). I also learned to appreciate yoga, power-walking and group cardio classes.
Most recently, I've developed a newfound love for running. When my grandma passed away last year due to a tough battle with Cancer, I wanted to fight for her and be strong for her. I started running as a way to cope with her death at first, and quickly signed up for a number of 5Ks to raise money for the cure. I no longer dread running, as it makes me feel strong, alive and powerful. Every time I set foot on the pavement, I think of my grandmother and it gives me the strength to get through.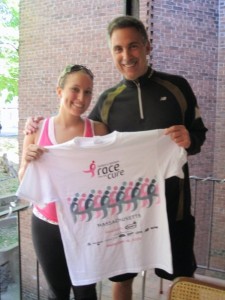 [Dad & I last September, Race for the Cure in Boston]
Now that it's 2011, a whole new year is ahead of us and I plan to make this year one to go down in the books! 2011 is going to be all about me, and reaching my goals. My biggest accomplishment thus far is self-publishing a healthy recipe book for women "Healthy Chicks in the Kitchen." But my strides to reaching my goals definitely doesn't end there. I also just signed up for my very first half marathon in NYC this April, the More/Fitness Magazine Women's Half. I couldn't be more excited to run my first 13.1 miles surrounded by other strong, powerful women like myself (of course sporting some pretty workout apparel as well).
I'd love to be a part of Team 4all because through my writing I strive to give women, of all shapes and sizes, the confidence and strength they deserve when it comes to their health. Anyone has the ability to become healthy and fit; they just need a little confidence boost to get started. And that's exactly what I aim to do. Life is too short not to live it to your full potential…every woman deserves to shine!
XoXo,