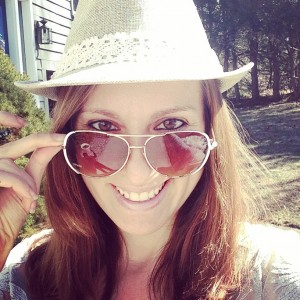 Spring is finally in the air (at least here in Boston!) I can't tell you how truly happy I was yesterday morning when I woke up to sunshine, 70-degree-weather and that oh so joyful feeling of utter bliss. I put on my new maxi dress 'n shades, head outside and didn't look back. There's something about spring that gives me a newfound sense of renewal and passion, which I'm sure many of you can relate to.
Ready to ring in spring with an extra pep in your step, the Healthy Chick way that is? Here are 10 things to do right now.
1. Set Your Intention Spring is a time for new beginnings and change! Take out your journal and get really clear about your intention for the season. Think about what you want…and then ask yourself why. Right now my intention is around clarity, self-care and being true to myself.
2. Take a Spa Day Literally. A few weeks ago I was lucky enough to spend an evening at Boston's newest organic day spa, Spa Day. This hidden oasis on Washington St. makes you feel like you're miles and miles away from the city. While I was tempted to do all the services, I opted for the Skin Savior Facial (geared toward blemish-prone skin) and Classic Pedicure. I loved the fact that they use clean, organic ingredients and go by the belief that "What goes on your body goes in your body." (Seriously, think about that!) Plus the owner Maria is super informative about the products and services + such a doll.
When I left, I thought "Why don't I treat myself to this more often?" which I am now going to make a point to do. And you should to. Seriously. Plus, it doesn't hurt that my teal-painted toes look extra pretty in yoga class + my skin has an extra glow.
3. Shake Up Your Exercise Routine Does your exercise sched need a bit of a revamp? Trust me, I hear you! It's great to have a routine you love, but if you're feeling like you're in a rut, why not shake things up? Last week I tried Forrest Yoga at Coolidge Corner Yoga to change it up from my usual beloved Vinyasa. I loved the heated room and how the longer held poses helped me "let go" and feel a sense of peace mind, body and soul. It was a true exercise for both the body and mind.
Then this Sunday, the hubby and I went on our first group run of the season which felt absolutely amazing! Do what makes you feel energized and refreshed, and don't be afraid to try something new. You just might fall in love.
4.  Treat Yourself It's total BS that Healthy Chicks only eat lettuce and fat-free food. Um, far from it! Find little ways to treat yourself, that is when your body truly wants + craves something. There is no such thing as "bad" in my book. This week I enjoyed a Bloody Mary over brunch with my family at North Street Grille, and a burger (sans the bun!) later on while BBQing with friends. If you want the martini, order the martini. If you're feeling pizza, go for it but truly savor it. If you're really in the mood for the salad, that's great too! And pretty please, don't purchase yet another diet book or hop on the latest bandwagon fad this spring. You don't need it. You're beautiful. Just do you.
5. Bust Out Your Kitchen Skills I'm the first to admit it that us newlyweds slacked majorly in the kitchen this winter. We may have resorted to ordering takeout sushi, pad thai and delivery just a wee bit much. But now that spring is here, it's time to get cookin' again! Last week, I experimented with our new Spiral Slicer (which I've already fallen deeply in love with!) to make a vegetarian broccoli + zucchini pesto "pasta," and tonight I made baked lemon garlic chicken served with smashed sweet potatoes + a cucumber, tomato, local mozzarella salad. It's a myth that cooking has to be complex and fancy. Just throw on an apron and go with it. I know you have it in you!
6. Spruce Up Your Home Does the home-front need a little spring refresh? Girl, I hear ya. No need for a complete HGTV-style renovation, although that would be nice. Simply brighten up your space with flowers and herbs! Right now I've been into putting wild flowers in mason jars to "dress up" the kitchen, and I purchased a new basil plant this evening for cooking and decor. (Win, win!)
7. Hit the Farmer's Market It's that time of year again! Local farmer's markets are beginning to pop up, and I couldn't be more excited. If you're local to Boston, you'll be happy to know that both SoWa and Copley Square Farmer's Market will be open for business again early May. Get your reusable tote bags + shopping lists ready! In the meantime, try to shop locally as much as possible and aim to eat foods that are in season–like asparagus, radishes and leafy greens. After all, they taste better that way and help support the local economy!
8. Spend Time with Nature This is at the top of my to-do list this spring, as I know how therapeutic it can be! Spending time with nature can be extremely healing and freeing to the mind, body and soul. If you can walk somewhere, walk. Bike around the city. Take a moment to sit on a bench and simply take in the sunshine + silence. Find as much time as possible to get outside. Trust me, your body + mind will thank you.
9. Revamp Your Beauty Routine Dry skin or blemishes got ya down? Oh, I hear ya, girlfriend! Get your glow back by revamping your beauty regime. Right now I'm especially loving my new Neroli Toning Mist by Om Aroma & Co., designed to calm and balance skin. (I purchased a bottle at Spa Day after my treatment!) I've also started taking MegaFood's Women's vitamins intended to nourish, balance and energize. I'm already seeing (and feeling) a difference, so I'm going to keep up with my new routine. But keep in mind –ya gotta find what works for you.
10. De-Clutter Your Life Are you feeling weighed down from the winter? Trust me, you're not alone. Now is the perfect time to de-clutter, letting go of all of the things that aren't serving you so you can make room for the new. From old clothes and random knick-knacks (you should see my room right now, it's frightening!) to toxic relationships and negative feelings, you owe it to yourself to let it all go. Now take a deep breath. Doesn't that feel good?
What are your favorite things about the new season? How are you ringing in spring with a healthy heart + mind?