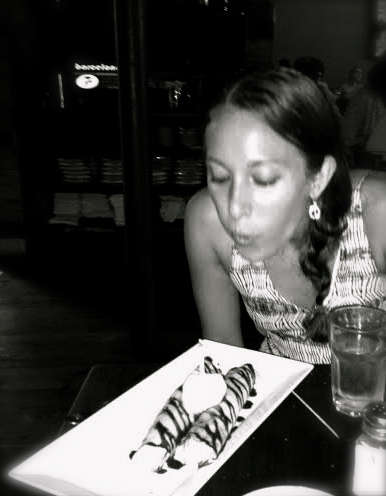 Last week, I celebrated my 27th birthday on Fourth of July weekend. It was quiet + simple yet I could feel the massive love pouring over me from friends and family.
Each year, I enjoy taking some time to reflect on the previous year and set some personal intentions for the year ahead.
This year, I was feeling rather blessed on how far I've come in life + love + all the other bittersweet moments. So I've decided to share with you — my readers, my friends — 27 things I've discovered by my 27th birthday. Enjoy!
1. to love your body, you must first love yourself.
2. giving and receiving go hand and hand. give often + receive with open arms (yes, it's OK to say "thank you" when someone tells you that you look pretty today)
3. perhaps the most precious time of all is the time you spend for yourself + by yourself.
4. true love really does exist, you just need to be patient for your *moment*
5. plans, goals and vision boards are great but in the end your life is going to look much different than you had envisioned and that's OK. in fact, it's more than OK.
6. stepping outside your comfort zone is perhaps the scariest thing you may ever do, but it's key for self-growth.
7. if you have the passion, the rest will come (even if it's not how you imagined)
8. money is nice but without happiness and a genuine love for life, money is nothing.
9. your body is smart. listen to it.
10. eat real food, often. savor it and enjoy it. no, it won't make you "fat."
11. while saying "no" can be tough, it's necessary for achieving balance + fulfillment.
12. do what YOU want not what he/she/they want for you.
13. what works for you doesn't necessarily work for me. find what works for you and do more of that.
14. the why is much more important than the how or the what.
15. sometimes the best thing you can do is stop, pause and let life happen. you really don't need to try so darn hard all of the time.
16. diets are not the answer. look INSIDE. (you'd be surprised what you may learn about yourself)
17. work is work unless you find work in which lights you up; then it really isn't work at all. seek a job you love or find a way to love the work you do.
18. sometimes, a simple shift in perspective can change everything.
19. you have control over your happiness. always choose to see happy.
20. i am enough. you are enough. period.
21. try not to compare so much to other people. everyone has their struggles (and successes!) but the ones that matter most are your own.
22. you aren't a failure, it's not too late, and you didn't miss the boat. start over today, right now. treat every day as a blank canvas.
23. yes, you can. tell yourself that more often. it's incredible what some good ol' fashioned confidence can do for you!
24. how you feel is much more important that what you look like or what you think you look like.
25. BE IN THE MOMENT.
26. treat your body with love. it's the only one you've got.
27. say yes to the things that light your soul on fire, even if it scares the crap out of you.
XoXo,
Rachel