Happy Thanksgiving weekend all, hope your bellies & hearts are full. I'm thrilled to introduce you to this week's Healthy Chick in the Community, the one and only Katie.
Like a sister to me, Katie has more energy and can talk more than anyone I know! Not to mention she's a wonderful person who puts her friends & family first.
I'll let you meet this shopping-obsessed diva for yourself! Can't think of a better day than on Black Friday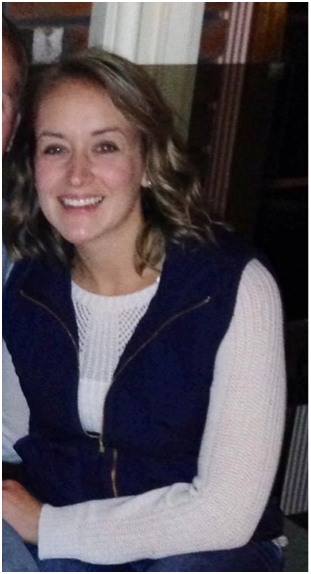 NAME/AGE: Katie Sullivan, 26 years old
CURRENT CITY: Lives in Vernon, CT
PHOTO TAKEN: This picture was taken last Thanksgiving sitting by the fireplace at my mom's house.
WHAT I DO FOR WORK: I work for East Hartford Public Schools as a 1st grade teacher
MY NUMBER ONE PASSION: Teaching. I always knew I wanted to be a teacher and that passion has never changed. My students keep me motivated and challenge me every day.
I FEEL MY HEALTHIEST SELF WHEN: I start my week off with a great spinning class. This helps me stay on track with my goals for the rest of the week. The empowering feeling I get after a great workout class motivates me to get to the gym for the rest of the week and helps me wake up feeling energized ready to take on the day.
BUT I AM ALSO A REAL GIRL AND SOMETIMES: just enjoy waking up late on the weekends and indulging in chocolate chip pancakes!

TOP THREE (MAYBE FOUR) KITCHEN STAPLES: almond milk, black bean veggie burgers, rye bread and cheese..all types!
MY GUILTY PLEASURE IS: Shoe shopping! If I could, I would have a whole closet dedicated to my shoes! DSW is my shoe heaven and all types of shoes make me happy!
THREE FAB THINGS ABOUT ME:
1. My family…although we may be a little different, we are who we are. My mom is my biggest inspiration..always has been and always will be and of course my 3 crazy brothers keep my life interesting and exciting
2. My relationship with my boyfriend Chris. It has been 3 years since we started dating and anyone who can keep up with me is a keeper!


3. I love my blonde hair and blue eyes and I am proud to be 100% irish!
EXERCISE THAT MAKES ME SHINE: Definitely dancing! Anyone who knows me knows how much I love to dance. I miss being able to practice all types of dancing so any excuse I can get to move around makes me happy. Whether it is a zumba class or random dance party in my kitchen I love it all!
FAVORITE COMFORT FOOD: brownies! My mom makes the best brownies and there is always a batch in our kitchen so naturally, I usually have a warm batch in my kitchen too! A little chocolate never hurt anyone

MESSAGE I WOULD LIKE TO SHARE WITH OTHER HEALTHY CHICKS: Don't forget to surround yourself with people who make you smile and laugh. I am fortunate enough to have so many close best friends and they are the people who make me happy. I laugh the most when I have girl's nights and their positivity makes me smile!