When I was on vacation with my family in Clearwater Beach, Florida I pretty much ate the same thing for lunch every day: the Spinach Berry Salad served pool-side at our hotel. It was light enough for a sunny dine-in-your-bikini lunch but hearty enough to tide me over until dinner. Plus, it had crunchy BACON in it. Not too much….just enough. Some days I enjoyed as is, while others I topped with fresh grilled grouper, chicken or shrimp.
Seeing as though I'm a salad fanatic (especially when it comes to making my own) I knew I needed to come up with some sort of variation to take with me back to Boston. And so I did. Enjoy this Strawberry, Avocado & Bacon Spring Greens Salad when you're looking for a little sun-shiny boost.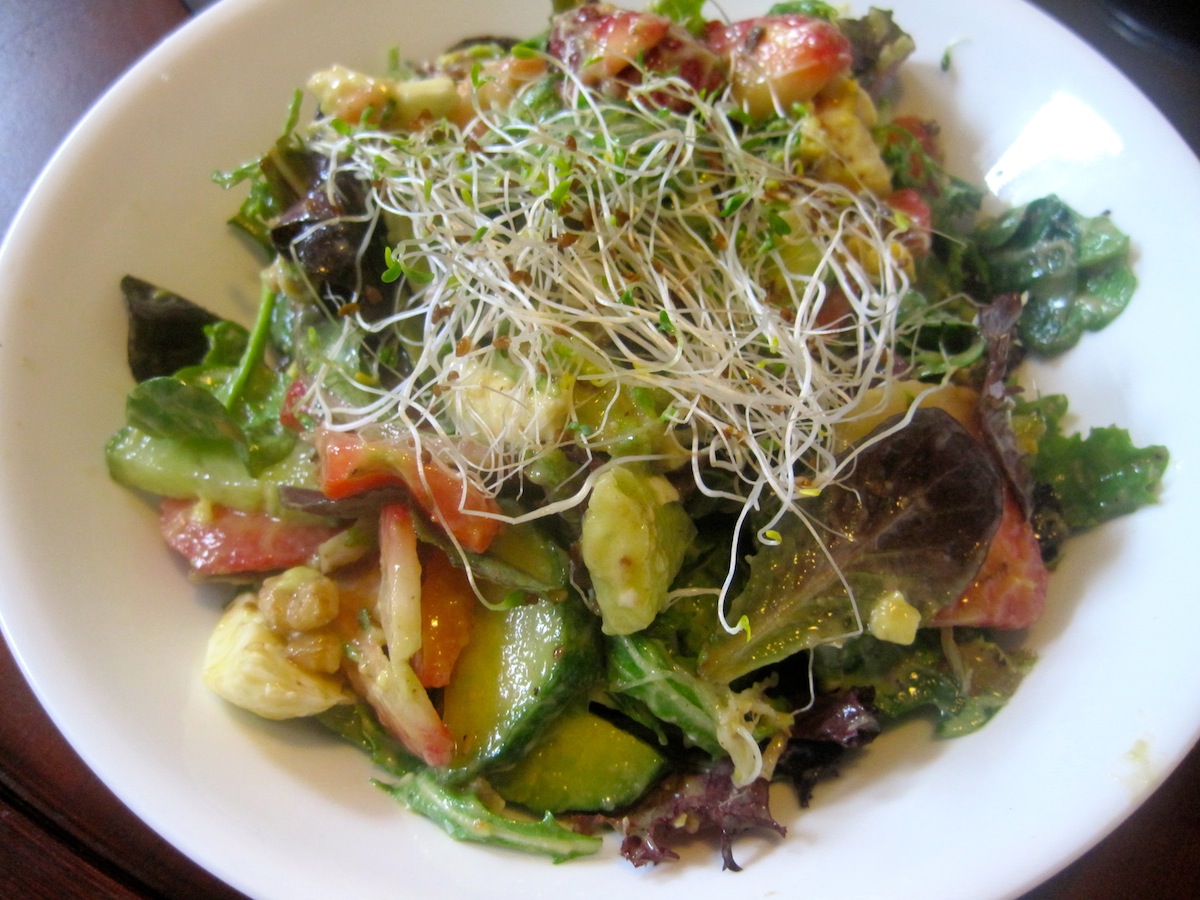 In the Mix
Makes 2-3 large servings
For Salad:
5 oz. package mixed greens of choice (I used Oliva's Organics Spring Mix with Herbs)
6 large strawberries, stemmed and sliced
1 large tomato, diced
1 avocado, sliced
1/2 cucumber, sliced into thin circles
1/4 c. chopped green onions
1 hardboiled egg, chopped
handful of alfalfa sprouts
3 strips crispy all-natural bacon, chopped
For Dressing:
1/4 c. olive oil
1 TB balsamic vinegar
1 TB apple cider vinegar
1/2 tsp. pure honey
juice of 1/2 lemon
few shakes each oregano, parsley and basil
salt & pepper to taste
1. Cook bacon on medium skillet until nice and crispy. In the meantime, mix all your salad ingredients together into one big bowl. Note: I like to make the dressing right in the bowl to save time and cleanup, but that's completely up to you!
2. Once bacon is finished cooking, blot with a paper towel, cool and then chop into tiny pieces. Add into salad. Top each plate with a handful of alfalfa sprouts for extra crunch.
~Feel free to add chicken, fish or shrimp for even more protein, but I  must say the salad is pretty filling on its own!
What are your favorite salad toppings? Whats your go-to lunch when you want something light & refreshing? Hearty & filling?