Good evening Healthy Chicks, and Happy Spring! If you haven't already, I encourage you to check out yesterday's post on all my current fave things, a special edition for the new season. Oh, and be sure to enter my Hurraw! Balm giveaway, which ends tomorrow evening. In the meantime, I've got this week's feature on Healthy Chicks in the Community: a compostable cooking artist who is just as creative in the kitchen as she is outside of it. I'll let Meg take it from here!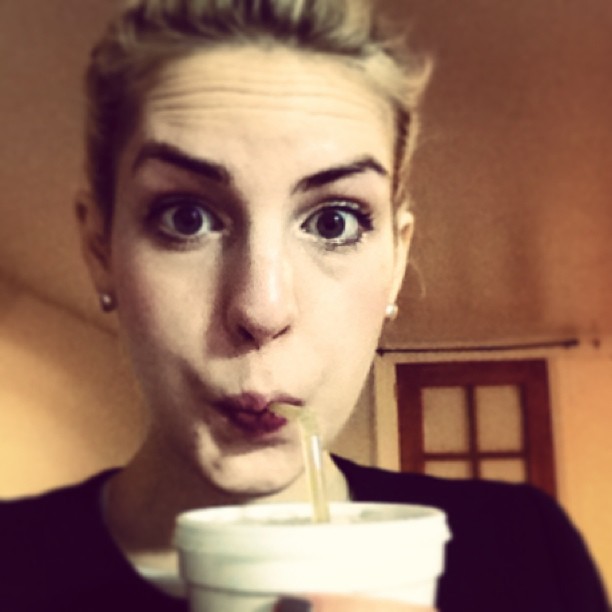 NAME/AGE: Meghan Kathleen Pacificus Kelly aka Meg Kelly aka The Compost Cook
CURRENT CITY: New York City
PHOTO TAKEN: Sipping on my lemon, cayenne, matcha and ginger drink. Can you say superfood junkie?
WHAT YOU DO FOR WORK: Copy and Content Intern at Gojee (gojee.com), a food and fashion website. I was a fan of the website before my internship and reached out to them when I moved to the city about a possible internship and have loved every second. When I'm not interning, I am at my art studio in DUMBO, Brooklyn, as part of the New York Studio Residency Program, where I study and make art with 16 students from the top 40 art schools across North America. My home university is NSCAD University (nscad.ca), where I study textiles and art history (an incredible school).
NUMBER ONE PASSION: Helping people feel EMPOWERED and PASSIONATE.
I FEEL MY HEALTHIEST SELF WHEN I AM: At peace and am living fully and consciously. It's the days when I wake up early, get to work out, go for coffee and a treat with my mom, blog, make some art, meet friends for lunch or my Dad for Pho, go for a walk, go to the library (I LOVE LOVE LOVE libraries), go to a foodie event where I get to eat by 6 (I have the eating schedule of an 8 year old), then go home, curl up with a good book and fall peacefully asleep by 10.
BUT I AM ALSO A REAL GIRL & SOMETIMES: …I finish off a pint of ice cream then watch hours of Netflix.
TOP THREE KITCHEN STAPLES: Cayenne pepper, white beans, nutritional yeast
NUMBER ONE GUILTY PLEASURE: ANYTHING FROZEN. ANYTHING SWEET. If I had to choose one? Froyo, and lots of it.
EXERCISE THAT MAKES YOU SHINE: 10K runs, Jillian Michaels' Workouts and Tara Stiles YouTube Channel.
FAVORITE COMFORT FOOD: Veggie Pho, Brown Rice Avocado Sushi
MESSAGE YOU'D LIKE TO SHARE WITH OTHER HEALTHY CHICKS: Spend time with yourself so you can know, accept and love your oddities. We are all weird and wonderful beings. Embrace it. Find your passion, pursue it.
If you'd like to be featured as one of my Healthy Chicks in the Community, or know someone who you want to make blush, email me for more deets. And remember, if you aren't feeling your healthiest self or are struggling to make positive changes, shoot me an email anytime to schedule your FREE 15-minute info session / sign up for one of my health coaching programs.