Good morning ladies! And 'tis a goooood morning indeed. The sun is shining bright in Boston right now, and The Boy & I just got back from a quickie, sweaty run together to take advantage. I even whipped out the shorts for the first time this year! Oh yes, it's simply THAT nice out.
I'm super excited because I leave for my NYC trip this afternoon! I'm going to be attending Holistic MBA Live, a rockin' business conference for wellness professionals put on by the lovely Stacey and Carey of  Holistic MBA. As I've been striving to grow & spice up my business lately, this conference could not have come at a better time. I have so many exciting things in the works!
Even better, while in NYC, I get to spend four whole days (well, nights) with my best friends from college. As you can tell, I'm high on life right now! Best friends + networking + business coaching = my cup of tea.
Anyway, today's Thursday so let's get to this week's feature for Healthy Chicks in the Community. I am happy to introduce you to a lovely lady who I had the pleasure of meeting for one of her spin classes followed by some vino. Let's just say, she's full of energy, love & a zest for life so we naturally had a lot to talk about. I'll let Ali take it from here!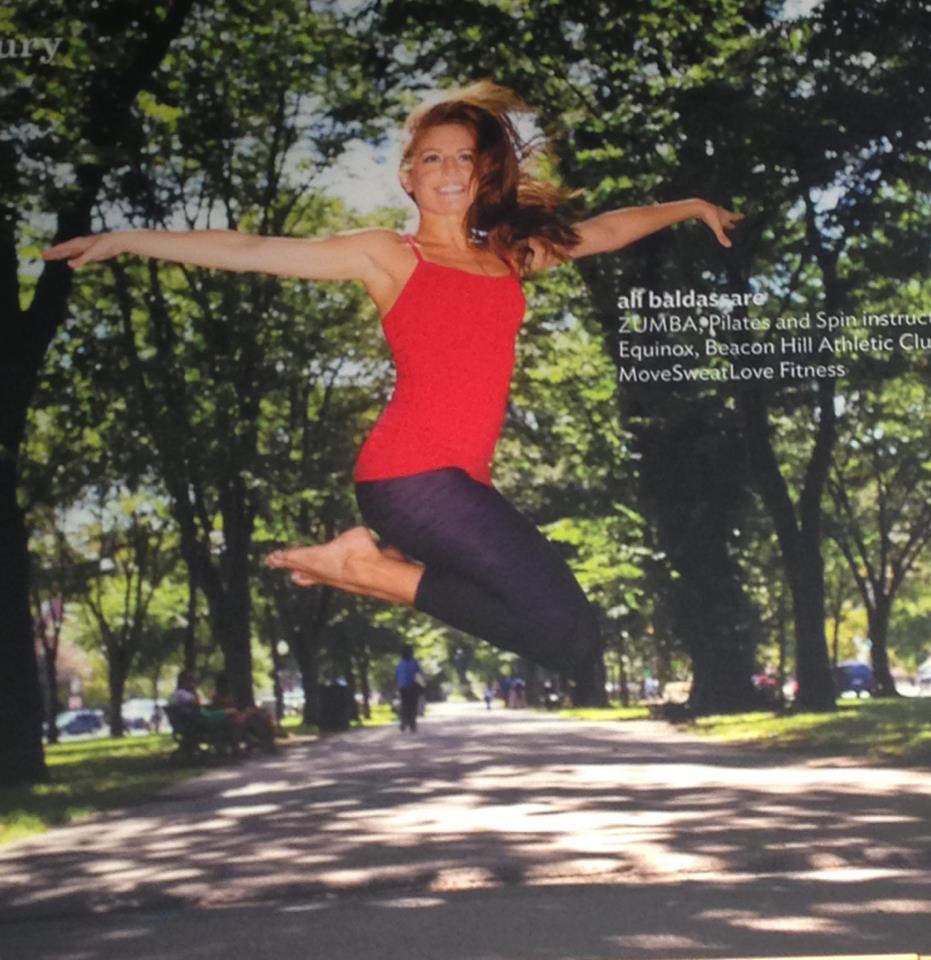 [photo provided by Ali courtesy of lululemon]
NAME/AGE:  Ali Baldassare, 28
BLOG/TWITTER (If Applicable): http://alibaldassare.com / @movesweatlove
CURRENT CITY: Boston, MA
PHOTO TAKEN: This is my Lululemon Ambassador photo taken at the end of last year.  It is currently hanging up on the wall in the Lululemon store on Newbury St. so next time you're out shopping, check it out!  Speaking of photos, stay tuned because I'm currently planning a fitness photo shoot over the next 2-3 months and it's going to be epic!
WHAT YOU DO FOR WORK:  Most people would never know it, but fitness is NOT my full time job.  It is my full time passion though 🙂 Right now, I do have a 9-5 job working for a pharmaceutical company, although with the amount of classes that I teach and clients that I train, I could easily argue that I pretty much have two full time jobs.  One day, I'll be able to answer this question by just saying "full time pilates and fitness instructor" and maybe that day will be soon! No one said making your dreams come true was easy, right??
NUMBER ONE PASSION:  Teaching, inspiring and motivating people to live a life they love in a body they love!
I FEEL MY HEALTHIEST SELF WHEN I AM:  1) When I eat well.  Eating a good clean diet makes me feel energized, awake and ready for anything!  2) Remembering to make time for me.  Things can get super hectic, but taking time for me can really help me not feel overwhelmed and run down.  It can be anything from going for a run, taking a yoga class, getting a massage or a manicure/pedicure, etc.   3) When I surround myself with other really inspiring and motivating people.
BUT I AM ALSO A REAL GIRL & SOMETIMES: I have bad days when I feel unmotivated, discouraged and just want to throw in the towel and give up, but deep down I know things will always turn around.  Those bad days are what makes my good days that much better!
TOP THREE KITCHEN STAPLES:  1) Bars (Lara bars, KIND bars, or Luna bars are some of my favorites) 2) bananas, apples, spinach, almond butter, raw almonds 3) my blender.  I am always on the go and rarely home for any significant length of time so anything healthy that I can throw in my bag or anything that I can mix up in a blender is perfect.  I've been really into making all kinds of smoothies lately and they actually keep me full….says the girl who is ALWAYS hungry!
NUMBER ONE GUILTY PLEASURE:  CHOCOLATE.  Anything chocolate.  I have a really big sweet tooth!
EXERCISE THAT MAKES YOU SHINE:  Dance.  I grew up dancing and love everything about it. Dancing has a way of allowing me to escape the world and just let go.  It makes me feel free, alive, and happy.  It also has so many great benefits like keeping your body limber and enhancing your agility, flexibility and balance.  Even when I'm completely exhausted, I always look forward to teaching my weekly Zumba classes!
FAVORITE COMFORT FOOD:  Every now and then I like to enjoy a cheeseburger 🙂
MESSAGE YOU'D LIKE TO SHARE WITH OTHER HEALTHY CHICKS: You are capable, powerful, and in control of your life! Living a healthy life doesn't have to be complex or hard.  Everything is based on your perception, your goals, and your choices.  There are endless ways to exercise; there are so many different ways to incorporate healthy eating into even your busiest of days.  All you have to do is find the right balance of the two that works for you.  Healthy living really can teach you so much about yourself and it's not a one size fits all concept.  What works for you may not work for me, but that's the beauty of it all.  We are all unique. Remember, you are the only one who can live your life, so don't compare yourself to anyone else.  Keep things simple.  Have fun!  Be you! Strive for growth, balance and opportunity, not perfection.  You are all amazing.  Believe it and own it!