Good evening ladies! Hope you're all doing well. I'm currently away on a family vacation at Clearwater Beach, FL and am soaking up every minute of it: the seafood (seriously, the Grouper is phenomenal!), the 86-degree weather, the sunshine, beach runs, pool-side drinks). I'm super excited to announce this week's feature on Healthy Chicks in the Community as she's someone who is very close & special to me. That is, my younger sister of course. I'll let Krista take it from here!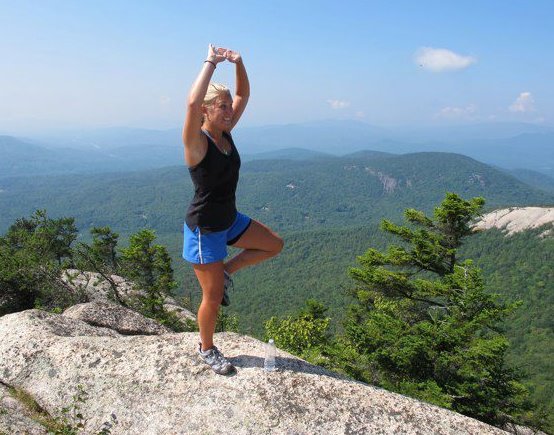 NAME/AGE: Krista /24 in a little over a week!
CURRENT CITY: Boston, MA
PHOTO TAKEN: Waterville Valley, NH (Welch and Dickey hike)
WHAT YOU DO FOR WORK: I'm finishing up grad school to be a speech-language pathologist and am hoping to start a job this fall in the rehabilitation setting. I particularly enjoy working with patients with aphasia, which is a language disorder that can occur after someone has a stroke or other type of brain injury. Many people with aphasia cannot say what they want to say or understand what others say, and I help them to communicate again!
NUMBER ONE PASSION: I really love helping people, and find happiness working with people with aphasia.
I FEEL MY HEALTHIEST SELF WHEN: I start each day with a green smoothie and a nice long run on the Charles River. I love getting outside and being active as much as possible, even if it is just for a long walk. Outdoor exercise + eating right is when I feel my healthiest and happiest!
BUT I AM ALSO A REAL GIRL & SOMETIMES: I get lazy and make excuses for not going for a run or to the gym, especially during the cold Boston winter months.
TOP THREE KITCHEN STAPLES: spring mix with herbs, hummus + carrots, and brown rice pasta
NUMBER ONE GUILTY PLEASURE: I love pizza. The smell,the taste, the toppings! If someone offers me pizza, 99% of the time I can't say no. But, I do love homemade pizza, which I guess is a healthier alternative!
EXERCISE THAT MAKES YOU SHINE: going for a long run outside on a nice sunny day. I also love to hike. There is nothing better than the satisfaction of getting to the top of a mountain and being rewarded with a beautiful view (and maybe a beer)!
FAVORITE COMFORT FOOD: chicken noodle soup, homemade of course!
MESSAGE YOU'D LIKE TO SHARE WITH OTHER HEALTHY CHICKS: As a busy (and stressed out) grad student, I have found that being healthy is more than just eating well and exercising daily. Being healthy also involves taking the time to do something that makes you happy throughout all the craziness: whether it be spending time with friends and family, getting outside to enjoy a nice day, or making a special dinner. It doesn't take a lot of time to do something for yourself to get rid of some of the stress and negative energy that life can bring 🙂