Hey, ladies! Thanks for all the love on my personal story toward discovering peace in my body — through messages, insta comments, and tweets, I am overjoyed by all your kind words.
On to this week's feature on Healthy Chicks in the Community! I am thrilled to introduce you to Christina — she's pretty badass and knows how to get sh*t done like no other (especially when it comes to her workouts). I first met her when taking her class at Flywheel here in Boston. The beets were bumpin', the studio was pitch-dark, and Christina surely  brought the energy!
I've had such a blast getting to know Christina throughout the past couple years, from my time at sweetgreen to catching one of her classes at Barry's or Flywheel. If you're Boston-based, and haven't taken one of her classes yet…DO IT! You won't regret it. But in the meantime, you can get to know her a little bit better over here!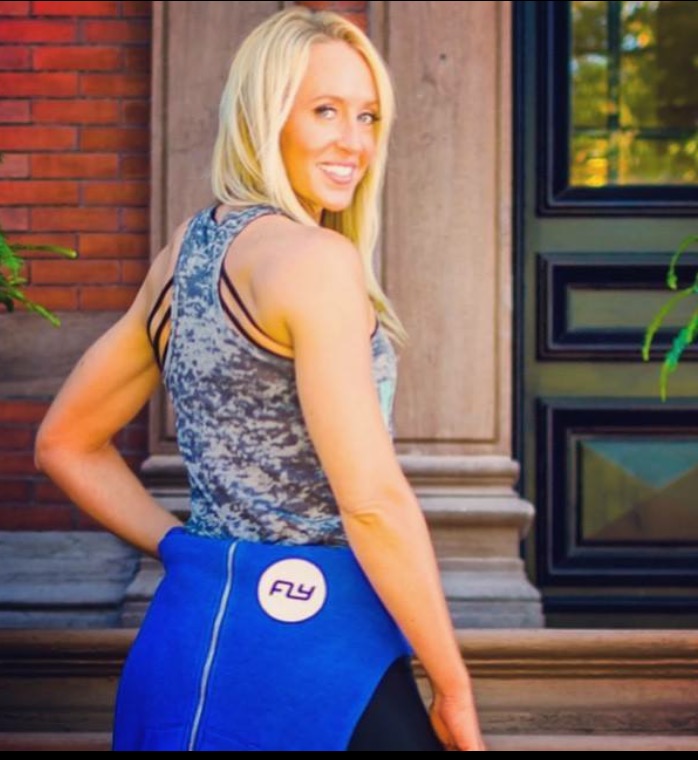 NAME/AGE: Christina Lodde/34
INSTAGRAM/TWITTER (If Applicable): @xlodde
CURRENT CITY: Boston
PHOTO TAKEN (WHERE/WHEN): Comm Ave in Boston during a photoshoot for Flywheel's Fall retail line last year.
WHAT YOU DO FOR WORK: Lead Master Instructor at Flywheel Sports Boston. Trainer at Barry's Bootcamp Boston. Nike Trainer.
NUMBER ONE PASSION: Professionally:  Leading people to find their inner athlete.  Im a huge fan of the saying "good things come to those who work their asses off". Personally: Discovering new ways to challenge myself mentally and physically.
I FEEL MY HEALTHIEST SELF WHEN: I have balance in my life.  Finding the right balance between all the things that get challenging as we get older like managing stress, getting enough sleep, eating clean, staying hydrated, and finding the time to enjoy the things that make us happy, like traveling or hanging with family and friends.  We may never have the perfect amount of each all the time but finding the right balance is key.
BUT I AM ALSO A REAL GIRL & SOMETIMES: Have one or THREE too many margaritas or give into my cravings for pizza and chocolate.  I don't stress though because I work hard and truly believe consistency with a health diet and exercise pays off.
TOP THREE KITCHEN STAPLES: This is tough because I'm not in the kitchen as much as I want to be, especially in the summer.  When I am in the kitchen I am usually on the phone with my mother who is desperately trying to help me from Florida. Top 3 food staples would be 1- eggs.  I make them for breakfast, lunch, or dinner some nights. 2- quinoa. When in doubt one of my quick and easy go to lunch or dinner options is a bowl of quinoa with fresh vegetables, chicken or tuna. 3- peanut butter.  I just can't live without it as a snack on a banana or apple, or just a scoop if I need to satisfy a craving.
NUMBER ONE GUILTY PLEASURE: Reality TV!
THREE FAB THINGS ABOUT YOU:
– I'm a natural blonde and have never dyed my hair.
– After college I studied martial arts and am a blue belt in Kenpo Karate.
– I love being on stage! I was a natural performer from the age of 3. I studied many different forms of dance but the most unique was Hawaiian and Tahitian. Tap was my favorite form of dance growing up though and I have won national competitions for my tap solos.
EXERCISE THAT MAKES YOU SHINE: I teach what I'm passionate about. Hitting the beat on the bike at Flywheel, sprinting on the treadmill at Barry's, and strength training have always been my favorite forms of exercise.
FAVORITE COMFORT FOOD: My Mother's Italian meatloaf and mashed potatoes. She makes it for me every time I'm home to visit.
MESSAGE YOU'D LIKE TO SHARE WITH OTHER HEALTHY CHICKS:
Scales don't measure health. Being healthy is a lifestyle choice and consistency is key. Splurge on yourself. Treat your body well inside and out and it will love you back! "If you a fly gal get your nails done, get a pedicure, get your hair did." 🙂
Big thank you to Christina for taking part in this week's Healthy Chicks in the Community. Miss last week's? Catch it here! And if you'd like to nominate yourself or a friend in the future, just email me at rachelAThealthy-chicksDOTcom.