Happy Friday, babes! First and foremost, I want to thank all of you for your sweet words and support this past week. Since I published the story on my early miscarriage, I've been flooded with so much love from women in my community — through private messages, comments on my Instagram, texts and phone calls. I am beyond grateful, and this has been an enormous part of my healing journey so thank you.
Alright, moving on to this weeks feature on Healthy Chicks in the Community, a weekly series highlighting rockstar Girl Bosses doing their thang in the wellness community and beyond.
I am so deeply honored to introduce you to my beautiful friend and Graphic Designer Chantelle Davis-Gray. I first connected with Chantelle through SheBreathes, when I reached out to have her help design my Spark Your Bliss affirmation cards. She was so fun to work with, and I love her eye for detail and simplicity with a pop of color. It's been even more fun getting to know Chantelle outside of work, and her passion and mission to work with small wellness-minded businesses (small businesses with big hearts as she puts it) is truly inspiring. I'll let this creative rockstar take it from here!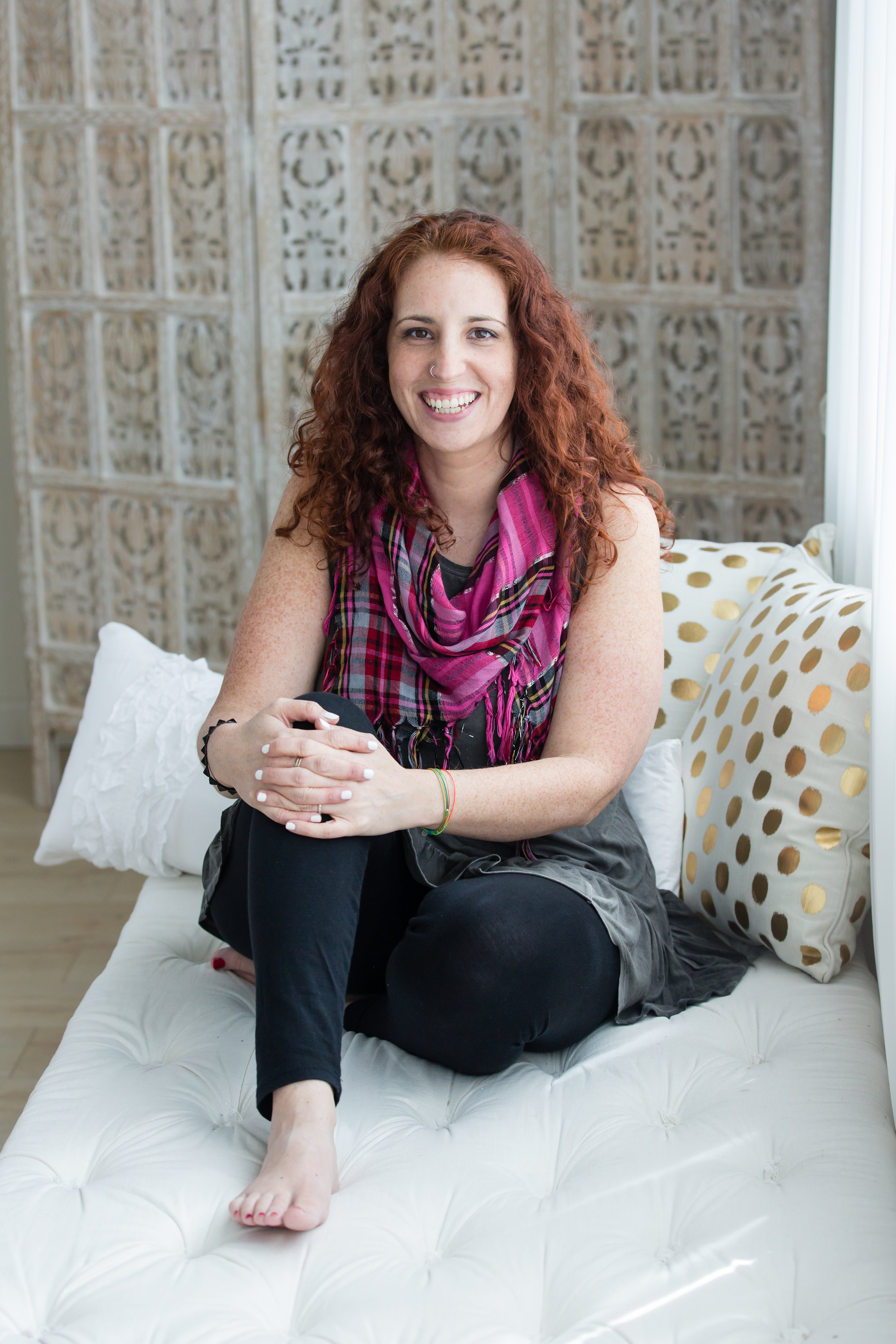 NAME: Chantelle
DESCRIBE YOUR BUSINESS/LINE OF WORK: I'm a web and graphic designer helping women grow their do-good, feel-good businesses. I work with "soul-o-preneurs" so to speak – coaches, yoga teachers, wellness practitioners, nonprofits, salon owners, spiritual healers, etc. I provide next-level support so they can stop stressing about design and put their time and focus into the work they love.
WHERE YOU LIVE: Franklin, MA
HOW YOU SERVE THE COMMUNITY THROUGH YOUR WORK: I combine my artistic and technical skills with strategy to create design that not only looks great, but also inspires action. (It's more than choosing pretty fonts and colors!) I'm committed to understanding the impact my clients make so that I can help them attract and serve their clients. Then their clients affect their friends and families. And then those people help the people in their circles. It's a beautiful ripple.
NUMBER ONE PASSION OUTSIDE THE JOB: My favorite thing is to spend time with my wife – cheesey, but true! I love to explore new-to-me places & restaurants. And when I need to feel grounded I go to the water or the woods.
INTENTIONS/GOALS YOU HAVE FOR YOURSELF IN THE NEXT 3 YEARS: I'd love to help so many women grow their businesses that my project schedule is full 3 months ahead. Since my work is location independent, I want to travel more (and get to meet some of the women I've connected with online across the country!) And I want to increase my physical strength to make sure I'm able to be that bad-ass 90-year old woman everyone is in awe of at yoga class.
ONE PIECE OF ADVICE YOU'D TELL YOUR CHILDHOOD SELF: Keep dancing or try hiking… moving your body will make your mind feel better!
FOODS THAT MAKE YOU FEEL ALIVE & BRING THE MOST JOY: I love trying new vegetarian dishes at restaurants. (I like to cook, but it always tastes better when someone else makes it!) I recently had the most amazing salad with sweety-drop peppers and I'm trying to find them to recreate it at home.
SONG THAT MOVES YOU: Once a Day by Michael Franti and Defying Gravity from Wicked Soundtrack. I often start my day by listening to both of them!
THREE FAB THINGS ABOUT YOU:
1. I've got a Virgo mind + a hippie artist's heart = perfect match for my work!
2. I love animals.
3. I'm an excellent secret-keeper.
FAVORITE BODY PART & WHY: Shoulders & feet — not sure why, just always loved them!
I GET MY INSPIRATION FROM:
The work my clients do! The world around me. Street art, movies, other designers.
EXERCISE THAT MAKES YOU SHINE:
Walking in the woods, barre (Mind Body Barre is my fav) & yoga
SOMETHING IN YOUR "WELLNESS TOOLBOX" YOU CAN'T LIVE WITHOUT: Stretching, because I spend so much time sitting or standing at my laptop. I stretch my hips, legs, back & shoulders a few times a day, otherwise I feel like the Tin-Man!
GREATEST ACCOMPLISHMENT: Listening to my gut and trusting in myself. It was challenging to get where I am today and I'm proud that I put the work in because it's made a difference in how I show up for myself and others every day.
FEMALE LEADER(S) YOU LOOK UP TO: I really admire the way these women do things in their own way — they don't necessarily follow the "rules" of the system: Seane Corn, Ani DiFranco, Danielle LaPorte
IF YOU COULD PICK ONE PERSON TO HAVE DINNER WITH, WHO WOULD IT BE & WHAT WOULD YOU MAKE THEM: The Dalai Lama — we'd go out because the pressure to cook for him would cause too much stress for me! I've seen him speak a few times and I love his Buddhist perspective. I'd love to chat about his day-to-day and stories from his life!
GO-TO MANTRA OR INSPIRATIONAL QUOTE: Live like you love yourself. All of Desiderata, but especially these parts: "You are a child of the universe, no less than the trees & the stars; you have a right to be here. And whether or not it is clear to you, no doubt the universe is unfolding as it should"
MESSAGE YOU'D LIKE TO SHARE WITH OTHER HEALTHY CHICKS:
You don't have to do it alone. Whether it's figuring out your meal plan or creating a new website for your business, there are women ready & wanting to help. It doesn't make you "less-than" to ask for support!