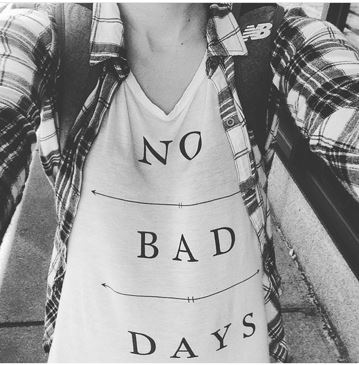 One of my favorite tanks I have has the words "No Bad Days" printed in big, black bold lettering. While it may sound a little extreme and preachy to tout that, it's the meaning behind it that I love most. In reality, there's going to be tough times and crazy sh*t that life throws at you, but it's the way you handle those hardships that speaks volumes.
Life isn't always rainbows and butterflies, and I don't think we should pretend that it is. (BTW, anyone who claims that's how is it, I think is living in a different Universe.) However, I'm a firm believer that life is what we make of it, and while we can't control everything that happens to us, we can control our mindset. My "No Bad Days" tee reminds me that even when things aren't going my way, it doesn't have to completely ruin my day, week or heck even month. It just means I may need to take a new turn and look at things a little differently.
Learning From The Tough Times
One of the most challenging times for me was about a year ago when I decided to leave my full-time job for … Read More!