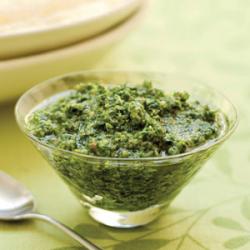 [source] Got leftover pesto hanging around the house? Try this easy peasy recipe!
Remember how I told you all that I'm a huge fan of experimenting with new recipes? Well, this afternoon my sister had the brilliant idea of making use of my grandma's homemade pesto we had stored in the freezer. (Sidenote: freezing pesto is a super practical way of making it last longer, while keeping it fresh and tasty. My grandma taught me a little trick to freeze in ice cube trays for individual servings.) Once I knew pesto was on the menu, my little brain started to ponder.
After a trip to Whole Foods, I decided we'd incorporate some all-natural chicken into tonight's meal. And peas. And penne. Alas, dinner was planned.
Here's what we used for tonight's easy supper*:
*makes about 4 servings
2 c. brown rice penne
1 large boneless skinless chicken tenderloin, all-natural & raised without antibiotics (organic is best – I got ours at Whole Foods)
1/2 can sweet peas, rinsed and drained
1/2 c. frozen spinach, organic
1/4 c. homemade pesto (may adjust according to taste)
1 1/2 TB olive oil
juice of 1/2 lemon
1 clove garlic, crushed
salt  & pepper
…
Read More!