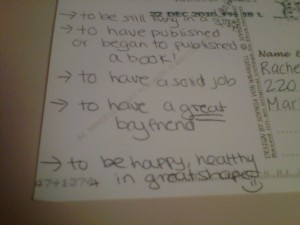 The other day when I was getting dressed for Christmas dinner, I heard my mom screaming from the kitchen "You've got mail! Rachel what is this?" I quickly ran over to see what this mystery mail could be. Once she handed the tiny postcard over to me, I knew exactly what it was. Last year on New Year's Eve (almost exactly a year ago), my sister, a good friend and I went to First Night in Boston. For those of you who don't know, it's a ginormous festival of arts and community in Boston that takes place every New Year's Eve. 
Anyway, while we were there, we filled out these postcards with our wishes for the year written down. We then addressed them to our respective homes, handed them in and quite frankly forgot about them for nearly 365 days. That is until that very same postcard was sitting in my hand once again on Christmas night. At first, I laughed. And then within seconds my laughs turned to disbelief, shock, and surprise. Nearly all of my "wishes" had come true…in just a year. 
Here, I share to you my wishes for 2010: 
1. To still be living in a fun city (Boston or NY) Check. 
2. To have published or began to publish a book. Check. 
3. To have a solid job. Half a check…Working on it. 
4. To have a great boyfriend. I'm gonna say check…or veryyyy close to a check. 
5. To be happy, healthy and in great shape. Welp, I'm happy, I'm definitely healthy and I'm a good 5 pounds less than last year and am finally confident and comfortable with my body. 
WOW. It's just unbelievable. Guess that's the Law of Attraction doing its thing. When you realllly want something and reallly believe in it, it usually comes true. Pretty cool, huh?