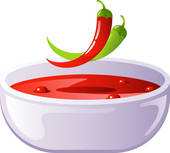 There's lots of thing I hate about the cold: the fact that my nose doesn't stop running, I need to wear my ugly "sleeping bag" coat to get around, layers are a must, and people just seem altogether crankier than usual are just some of them. However, there is one thing I love more than anything, and that my friends is chili season. Yes, once the weather gets chilly, I whip out my chili and all is OK. I've tried many-a-chilis in my lifetime from extra-spicy and five bean to shredded chicken and meat lover's beef. But the one recipe I go back to over and over again is my healthified Turkey Chili. It's lean and delish with the perfect amount of hotness. Enjoy!
-1 package lean or extra lean ground turkey
-2 8 oz. cans tomato sauce
-1 14 oz. can crushed tomatoes
-1 large yellow onion, chopped
-1 red pepper, chopped
-1 clove garlic, crushed
-1 can black beans
-1 can corn
-1 jalapeno pepper, diced small
-2 TB olive oil
-2 TB chili powder
-1 TB cumin
1. Coat large soup pot with olive 
oil, and cook onion and red peppers on medium heat, stirring frequently. Add in garlic and simmer on low heat.
2. In the meantime, heat a large skillet, and cook your ground turkey until no longer pink.
3. Add turkey into the large pot, as well as the tomato sauce, crushed tomatoes, black beans and corn.
4. Throw in your spices and diced jalapeno pepper, mixing everything together thoroughly.
5. Cover and simmer for about 45 minutes to an hour on low heat.
~Top with a dollop of low fat sour cream, cheese or diced avocado!
What's your favorite winter chili recipe?