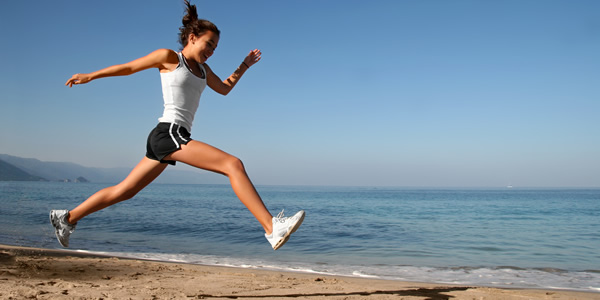 [source]
Holy hotness! I know you've heard it a million times from your coworker and the weather lady, but it's hot as hell out today in Boston. It's no lie the city is the worst place to be in the heat – tons of commuters, little shade and barely any water in sight. Ouch.
However, the main reason I'm complaining about the hotness is because I've recently started training for my second half marathon. During my first half marathon in April, the training was nice because a chunk of it was during the crisp spring months, and on snowy days throughout the winter I'd just run inside on the treadmill. But unfortunately summer training isn't as fun.
The solution? Lately I've been getting out super early to run before the sun gets too hot, but even then the humidity can be brutal. I've also been eating a solid breakfast like egg whites on toast or fruit topped waffles an hour before my run and chugging the H2O all day and night to stay as hydrated as possible during these hot, summer months.
Anyway, I'm writing this post because I'd really like to hear your suggestions and tips for training for a race in the summertime? How do you do it? How do you stay hydrated and fueled? How do you motivate yourself to power through?
I could use all the advice I could get, and I'm sure many other readers can relate too!
XoXo,