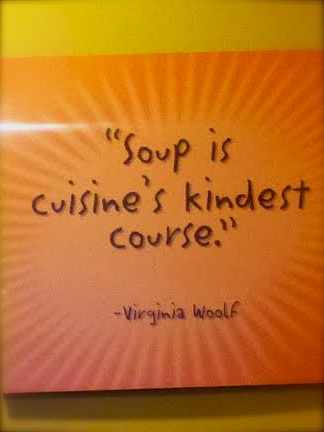 Today, after a long day of shopping for winter clothes, my sister and I decided to stop at Zoup Fresh Soup Company to warm up. I had only been to Zoup once before, but decided to give it another go. After all, it is officially sweater, snuggling, and soup season.
With twelve rotating soups on their menu, a variety of fresh salads, sandwiches and breads, this place was an instant hit in my books. After sampling four different soups – including Chicken Pot Pie and Collard Green Chicken & Barley – I decided to go with a classic zesty Tomato Basil paired with a Loco Burrito Salad (with Romaine, fajita chicken, salsa, mozzarella, tomatoes, guacamole, and tortilla crisps).
The waiter must have liked me for sampling all their soups, that he upgraded me from a cup to a bowl for free. What a nice surprise! The soup was perfect, with just the right amount of spice and I licked my salad bowl clean. I will definitely be back this winter to stay nice and toasty!
Hope you all had an amazing weekend. Now grab yourself a cup of soup & enjoy.
XoXo,