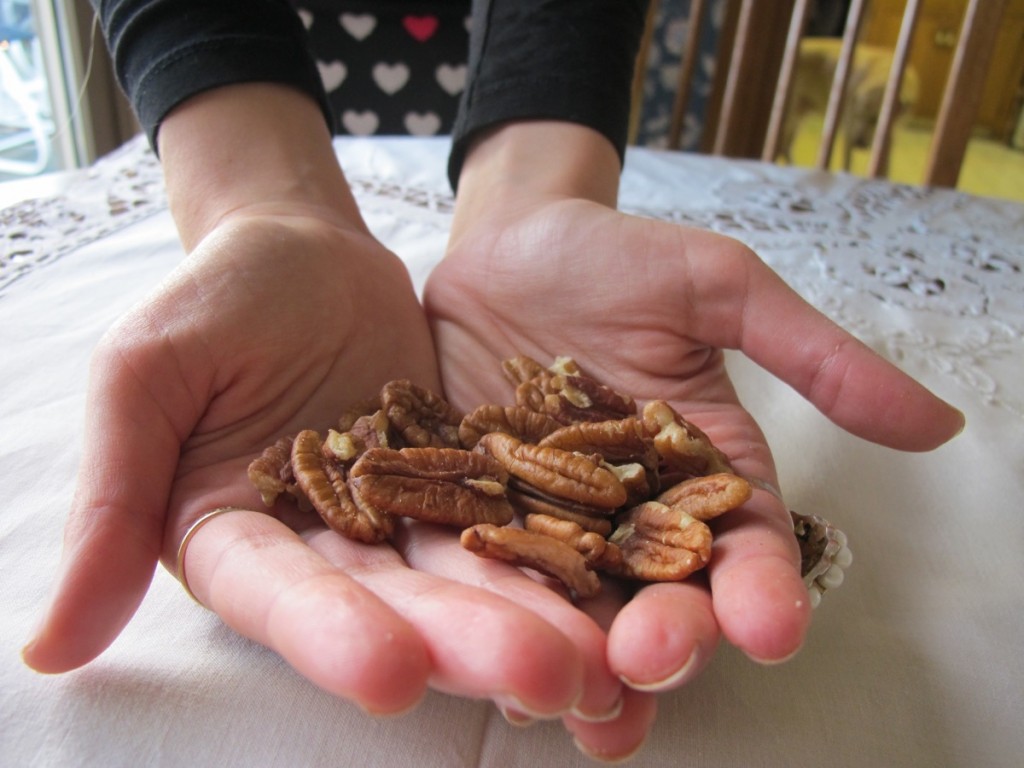 [healthy snacks like these raw pecans can help keep you in check during the day]
Good evening ladies, and happy Cyber Monday. Any online deals catch your eye today? I received dozens of emails, but decided to hold back from online shopping as I know I can get a little carried away. I work better shopping in-person, where I tend to make more cautious, controlled choices.
Anyway, despite today being Cyber Monday, I noticed many people were in a funk. Most everyone I talked to said they felt sluggish, tired, bloated, "fat" or generally "Blah" and I gotta admit I'm right there with them. Being the Monday after Thanksgiving (which was also a long weekend for many), most of us let ourselves get a little carried away, be it skipping our daily workouts or bingeing on one too many chocolate chip cookies.
Have you let your routine get away from you this past weekend too? No worries! Thankfully, there are several things we can do to kick that "blah" to the curb, and get back to our normal, beautiful, perky selves in no time!
Feel-Good Tips to Beat Those Winter Blahs
Skip your morning latte, and instead down a tall glass of water with lemon and mint. Not only is it refreshing, but it'll aid with digestion, help de-bloat your tummy and give you a natural energizing boost
Get MOVING! Go for a run, long walk, or pop in a workout DVD like Core Fusion Bootcamp to get your heart rate up, and your body moving.
Cut out the cocktails during the week. Drink a little too much last weekend? It's smart to skip the wine and happy hour specials this week, and save them for the weekend. Even so, cut it off at one or two and be in CONTROL.
Cut back on dairy and processed carbs, including crackers, "whole grain cereals" (can be deceiving, ALWAYS read the label) and dinner rolls.
Sip a calming herbal tea before bed, preferably with peppermint in it for ultra soothing benefits.
Pack healthy snacks with you throughout the day, like raw nuts, fresh fruit, and carrot sticks with hummus. Even store some in your office fridge if it'll help you to remember.
Give yourself a facial & steam with a hot towel or paint your nails. Feeling pretty can work wonders for your mood!
Keep a food journal for a few days to hold you accountable to WHAT exactly you are putting in your body. You'd be surprised how quickly it can add up!
Experiment with superfoods, like a smoothie made with coconut milk, spirulina, maca powder and flax oil OR a large kale salad with avocado, raw nuts, lemon juice, and extra virgin olive oil.
BREATHE. Take a yoga class, practice meditation in the comfort of your own home, or simply zone out with a candle and a good book. Stress hormones can lead to digestion issues, bloat and unnecessary anxiety.
Know that tomorrow is another day, and it's never too late to START OVER. Don't let a few too many good drinks and over-indulgence in the bread basket make or break this holiday season. Simply get back on track, girl!
XoXo,