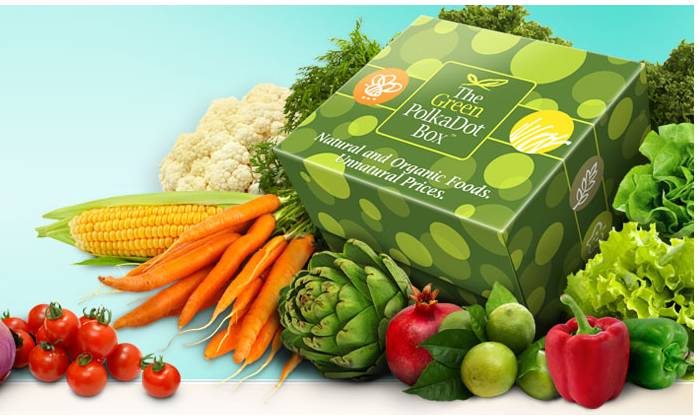 [source]
Good afternoon ladies. I am one happy blogger indeed, as I have some exciting news to share with you today over here on Healthy Chicks!
A few weeks ago, I was given the opportunity to interview Rod Smith, founder and CEO of the Green PolkaDot Box (GPDB) for an article featured in the Huffington Post "Good News" section. Yes, my writing has been published in the Huffington Post, which as a journalism graduate and freelance writer is a huge (HUGE!) accomplishment for me and something I've worked incredibly hard at.
OK, now that I got that off my chest, I'll rewind a little bit for you all. What is GPDB you ask? While I encourage you to read my article "Organic Food, Delivered Fresh to Your Door" I'll give you a mini synopsis over here on Healthy Chicks. The company, which just launched in December 2011, is an online buying collective featuring organic, non-GMO foods and products at a bargain price (at up to 60 percent off retail!). Think: Sam's Club and Costco had a baby with Whole Foods, and revamped their marketing plan to accommodate the online, "tech-savvy" generation.
I was actually first introduced to the company by my boyfriend Jason, who is one of their Founding Trust Members. You can read about his experience with GPDB here, as he's been a member since they first launched and is loving every minute of it.
Not to mention I'm loving every bit of it as well! Ever since he's signed up, he's been letting me share all his natural, healthy goodies (at a discounted price) from my favorite Sticks 'n' Twigs pretzels from Mary's Gone Crackers and a variety of Food Should Taste Good chips to Organic Maca Powder, and all-natural beauty products like deodorant, face wash and body balm.
I love that Rod Smith and his family dedicate their time to create healthy options for affordable prices, essentially starting a "Healthy Revolution." After all, why should we have to spend a fortune to fuel our body with natural, real, wholesome food and products? Shouldn't it just be a given?
To read and/or comment on my article on the Huffington Post, click here. To learn more about the first-hand experience being a GPDB member, click here. To browse products or sign up for a membership yourself, head over here.