Are you taking care of yourself?
Have you checked in lately regarding how much time you set aside for self care? When I was studying to become a Holistic Health Coach at the Institute for Integrative Nutrition, self care was one of the first topics we discussed. Yes, even before we went into the nitty gritty details of nutrition, fitness and more.
What's self care, you ask? To me, it means taking the time to do "me" things that are good for your body, mind and spirit. Because, as I've said over and over again if you're not happy & healthy on the inside, you are definitely not going to be happy & healthy on the outside. It's just how it works!
Lately, I've noticed I've been putting my self care somewhat on the back burner. Between the change in seasons, a new job, starting my own business, and meeting with clients life can get pretty hectic at times (which I know you can all relate). While it's easy to put yourself last during these crazy phases, it's actually during these times more that ever that you need to recognize what you are doing, and take care of yourself first.
Some of My Favorite Ways to Incorporate Self Care:
Extra-long hot showers
Self-massage with all-natural body oil (like jajoba mixed with an essential oil of your choice!)
Deep breathing & meditation (I have Gabby Bernstein to thank for this!)
Snuggling up with a good book before bed & lighting a candle
SLEEP, SLEEP and more SLEEP
Making a yummy, feel-good clean meal for yourself (get some great ideas from The Clean Plates Cookbook)
Taping a nap when you need one
Skipping the gym when your body is telling you "no"
Going to the gym or a long run or ____ (insert exercise of choice) when your body is telling you "yes"
Making a hot pot of yogi tea
Listening to relaxing music & zoning out (see my Relaxation Mix below)
My Relaxation Mix on Spotify
I've recently discovered Spotify, and I'm already 100% hooked. I love that you can make different playlists for different occasions and feelings, or as they say "music for every moment." Below is the mix I put on whenever I need to relax and give myself a little extra love & care. If you can't tell, I've got a little girl crush on Regina Spektor lately.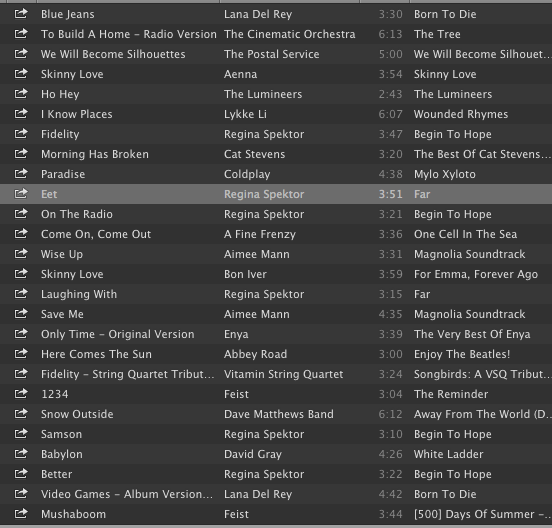 You'd be surprised by how much self care impacts our overall health & wellness, and can prevent you from reaching your goals if it's not in check! If you're struggling with treating yourself and your body with love, I'd be happy to set up a FREE 15-minute healthy lifestyle info session or tell you more about my coaching programs. Email me with any questions or to schedule your session today. What do YOU do to incorporate self care?