Good afternoon lovely ladies and Happy Sunday! Hope you all stayed warm & safe during the Blizzard. As for me, I escaped to our condo in Waterville Valley, N.H with the family for a weekend of snowshoeing, card-playing, unplugging and wining & dining.
New Hampshire is one of my favorite places to unplug, relax and simply appreciate the beauty in nature. I also love spending quality time with my family and The Boy without any distractions from the outside world. Oh, and one of our favorite activities: eating good food. Last night, I enjoyed Salmon Oscar-style from the Woodstock Inn Brewery, which was topped with asparagus and a decadent Béarnaise sauce, served with mashed butternut squash and steamed broccoli. I have no words!
NuttZo: A Jar Full of Love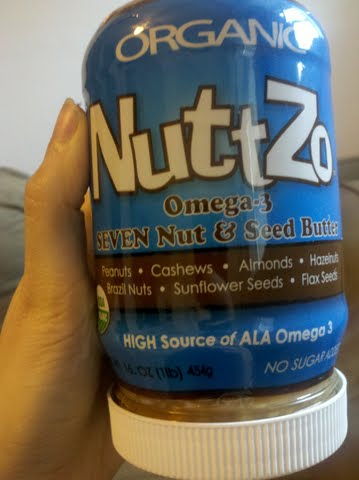 Speaking of good food, I've totally been loving NuttZo, an Omega-3 packed Seven Nut & Seed butter. If you didn't already know, I'm totally nuts about nuts, nut butters and seeds for that matter (love my flax!) So when I received a jar of NuttZo  to sample myself, I was ecstatic to try a new brand of one of my favorite "condiments." There's no better time than Valentine's Day season to give your body a generous dose of heart-healthy nuts, or show someone you love just how nuts you are about them!
A Touching Story
I especially like the story behind the company, as knowing where my food comes (who, where, what, why?) is quite important to me. When I found out that the President/Founder Danielle Dietz-LiVolsi is a go-getter, fitness-lover mom of two who created NuttZo to provide her two children (adopted from the Ukraine) with adequate nutrients, my heart melted.
She didn't let the fact that her two little boys were deficient in vitamins stop her from doing everything she could to make them stronger and healthier and in effect, NuttZo was born. That takes dedication, passion and love. Because of Danielle's experience, Nuttzo is now a proud sponsor of Project Left Behind, dedicated to providing care and support for orphaned children. Now that's a story.
Health Benefits & Features
You can read about all the incredible health benefits from eating Nuttzo here (heart health! cholesterol control! antioxidants! digestive support!), but the main reason I'm so crazy about it boils down to these 3 big things:
1. QUALITY INGREDIENTS: The ingredients are real, pure and to top it off organic. In fact, their Original flavor has just 8 simple ingredients: Organic Peanuts, Organic Cashews, Organic Almonds, Organic Brazilian Nuts, Organic Sunflower Seeds, Organic Flax Seeds, Organic Hazelnuts, Organic Sea Salt. Not to mention it's Vegan and Kosher, made without any added sugar or hydrogenated oils. You can't get much "cleaner" than that!
2. GREAT FLAVOR: I wasn't quite sure how the blend of so many nuts would turn out, but I was pleasantly surprised! The bounty of nuts gave it a great crunch, and the seven flavors really just worked together nicely! I love the crunchy, all-natural texture, especially when spreading on toast or oatmeal and the NuttZo definitely delivered!
3. OMEGA-3 BOOST: Omega 3 Fatty Acids are excellent for healthy skin, hair and nails!  Plus, they're known to improve heart & brain health, and lower LDL cholesterol. You can read more about the health benefits of Omega 3s here. While sometimes they're difficult to get from everyday food, NuttZo makes it possible to sneak in a healthy dose. In fact, just one serving of this delectable nut butter provides 50% daily value of Omega 3 ALAs!
NuttZo, 4 Ways
1. Scooped Straight from the Jar: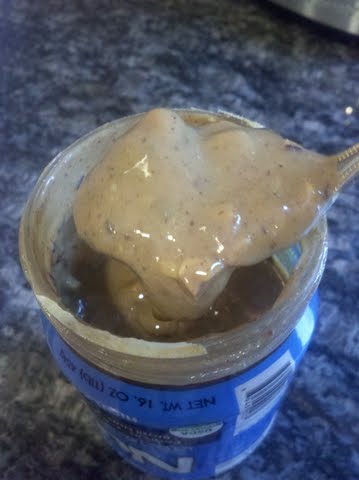 2. Added Into My Morning Blueberry, Banana & Maple Oats: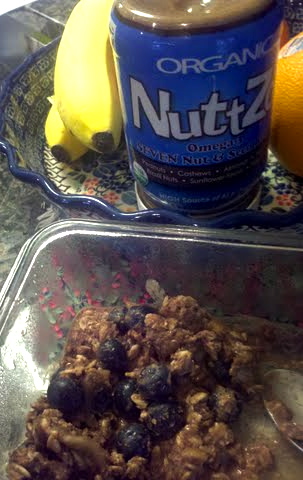 3. Mixed into My Health-Boosting Post-Superbowl Party Green Smoothie: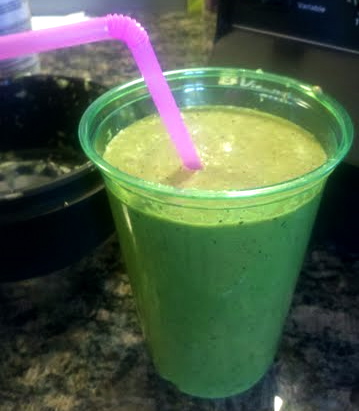 4. Spread Onto Ezekiel Toast with Banana & Cinnamon: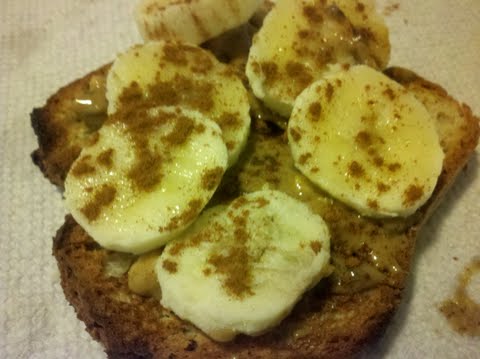 Join the NuttZo Love-Party
Looking for a new, healthy way to enjoy your nuts, or amp up your everyday peanut butter? Join the NuttZo party! I promise you're going to love it and, well, if you don't I'm sorry. I brought a jar to my parent's house for the weekend and they're already huge fans. And the other afternoon I received a picture message from my cousin who scooped up her own NuttZo (the Peanut Free variety with Chia Seeds) to try for herself. She wrote, "This girl trusts her cuz! I tried it at your parents house the other day. Yum! Jeff is excited since he adds flax and chia to his cashew butter anyway!" The NuttZo love is already spreading!
What's your favorite kind of nut? Do you have a nut butter you stick to, or are you willing to try new varieties? Crunchy or creamy? What are your favorite ways to show your loved ones you're "nuts" about them?
Note: I was given a jar of NuttZo Original Nut Butter to review as part of a FitFluential Campaign, but as always all my opinions are my own.