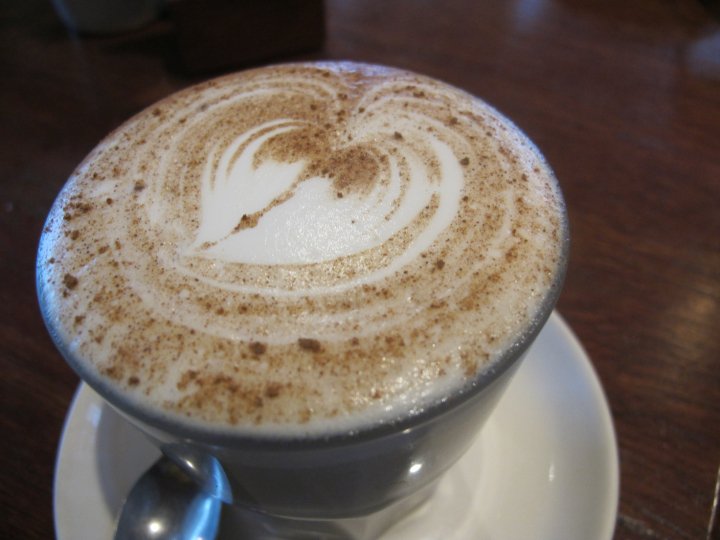 You know those moments when just the right thing comes along at just the right time? It's as if it was planned that way on purpose, like a little special hug from the Universe. It usually sneaks up on you during one of those "off days," rough patches or time of grieving. All of the sudden, a little pick-me-up sort of falls into your lap out of no where.
To be honest with you, I'm still feeling a bit off in coping with Monday's events, and have been having a hard time writing let alone feeling myself. I just keep replaying the day over and over again up to the moment of the attack, thinking "What if it were me?" However, I've certainly been finding love & joy in everything around me to not only help myself cope, but also those around me. To help our city heal.
You see, when you look for love it's everywhere, really. You can find love in things as small as your morning cappuccino or as large as an entire community coming together to pray & heal.
Love is in the eyes of your barista, your lover, the stranger on the street. In that couldn't-have-been-a-better-time email, note card, text, voicemail or phone call. It's even in that most perfect fortune attached to your yogi tea.
Love & light is in you, and me and the entire Universe (something I was reminded yet again during the final minute of my yoga class last night).
Just keep your eyes and your heart open and you too will find love. This week, I have found love in…
*The overwhelming number of calls, texts, emails (from some people whom I haven't spoken to in years) I received to ensure my safety
*The surprise visit from my mom, who came up from CT to take me on a lunch date, followed by some shopping & strolling in Harvard Square to cheer me up
*The warm rays of sunshine on my face
*My delicious mug of French Roast coffee
*The home-made meal The Boy whipped up the other night to put a smile on my face
*The adorable Buddha card my friend Jen sent from Toronto, pouring her love & admiration for me. It seriously couldn't have arrived at a more perfect time.
*Hugs from friends who I adore
*Goodnight kisses & cuddle seshes that felt especially consoling this week
*The restorative yoga class I took last night, with the most beautiful "Om" at the end. The teacher even sang to us during Shavasana. It was absolutely beautiful & perfect.
It was just what I needed….exactly at the right time.
I want to know, when's a time where you were sent some love at just. the. right. time? Share your stories below! Much love to you all…