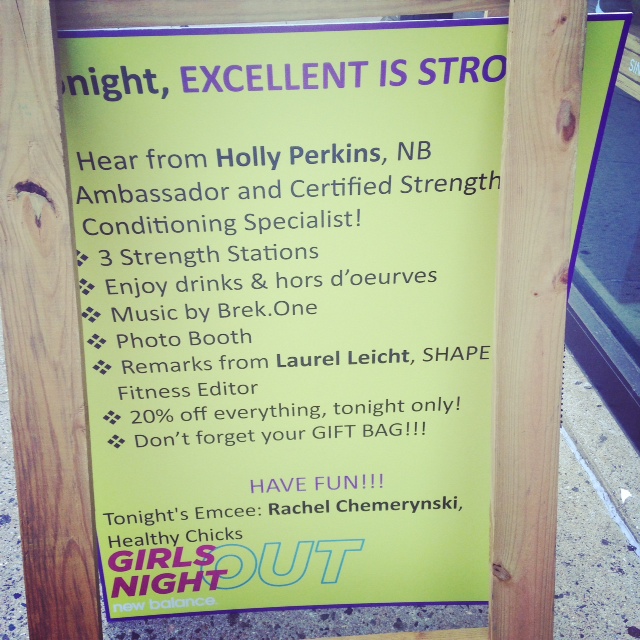 This past Thursday night, I was lucky enough to be the blog hostess/MC for New Balance's second GNO celebration in Boston.
The theme of the action-packed evening was "Excellent is Strong" and the New Balance team did an incredible job bringing that to life.
New Balance is on a mission to re-define the meaning of girls night, and a part of that is hosting these kick-ass celebrations in various cities in order to bring girls together for fitness, food and fun. I was so honored to be a part of the evening, as one of my #1 passions is inspiring women to do more connecting & cheering one another on (vs. judging & comparing).
I arrived to the New Balance Boston Experience Store (right on Boylston St) early to get my bearings & walk through the Run of Show with the PR team so there were no surprises. Once the ladies began arriving, they got their wrist band (labeled with group number) & enjoyed some wholesome granola bars & water to energize and hydrate.
After settling in, all of the ladies set out for their workout portion of the evening: 3 different bootcamp-style circuits (one in the store, one in Copley Square and one at Comm Ave mall) led by various trainers including Celebrity Fitness Trainer Holly Perkins & various Equinox instructors.
Holly even introduced all of us ladies to her very own fitness + wellness system baladea (which we all got to take home as an unexpected surprise as the end of the night!) Talk about feeling the burn – it's all about the strength training, baby!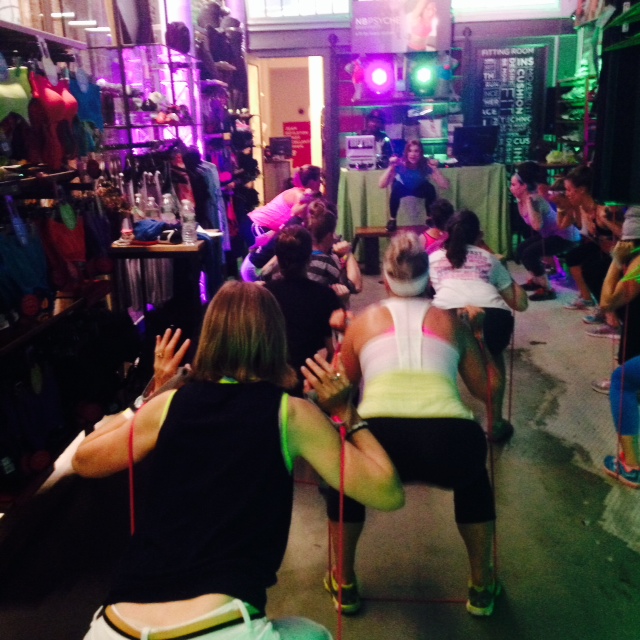 After the workout, everyone met back at the store to cool down (with moisturizing wipes provided by New Balance) and get the party started. After all, what's a girls night out without some party time with the gals? There was a variety of finger foods like hummus, pita and chicken skewers, sangria, wine, beer and live music by BrekOne.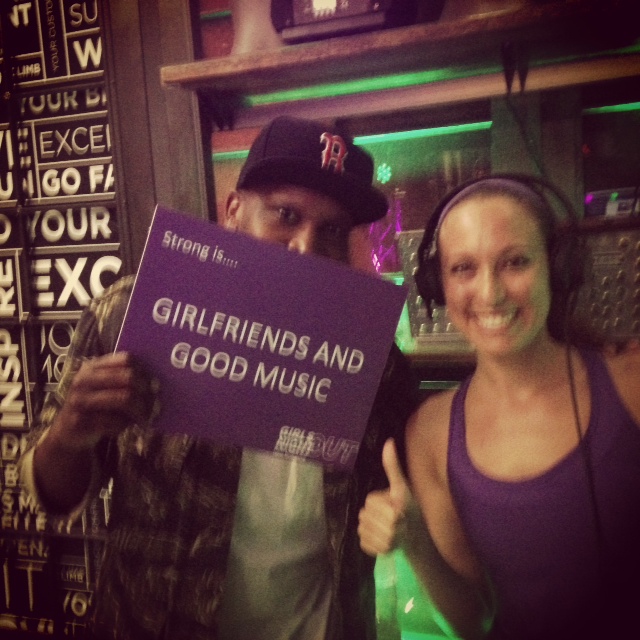 [DJing with BrekOne!]
Not to mention the photo booth (where girls could pose with signs re: what makes them "strong") and 20% off special courtesy of New Balance. We also heard inspirational talks from Holly Perkins & Shape magazine editor Laurel Leicht throughout the evening.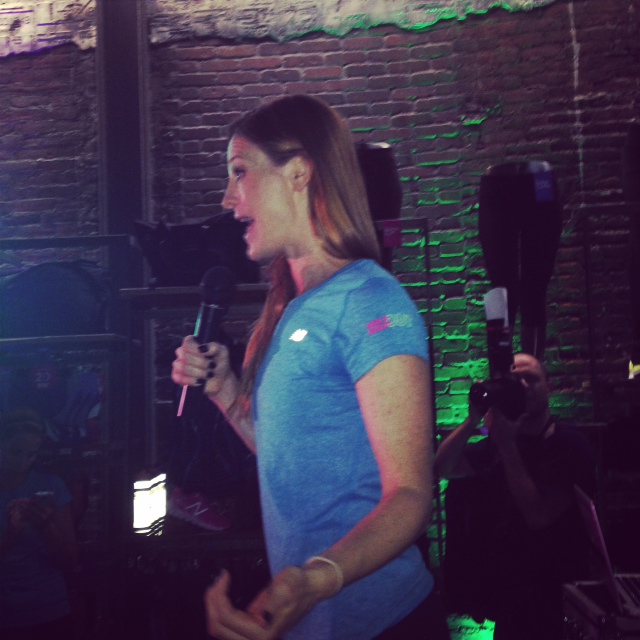 [Holly Perkins on strength]
Then it was time for my big debut! As part of my MC duties, I was asked to share a few words about my blog, my story and what strength means to me. I won't lie: I was extremely nervous as public speaking doesn't necessarily come natural to me. However, in honor of the evening's theme I decided to forge through my fears and put myself out there.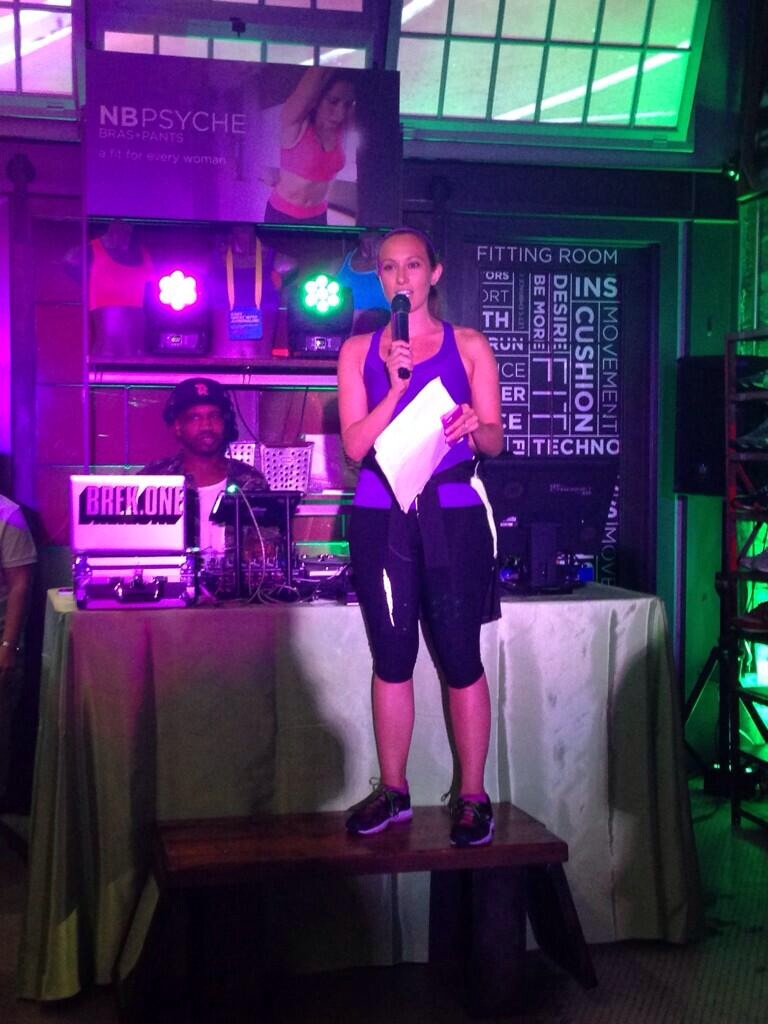 [public speaking? bring it on!]
I stressed that strength to me is so much more than just the physical but rather about how you feel mind, body and soul. After all, if you're aiming to be strong but feel like crap inside, what's the point really?
The new campaign floating around the internet "Strong is the New Skinny" particularly bothers me as a.) we as women don't need a new "skinny" and b.) this claim puts so much emphasis on our physical bodies, rather than what's on the inside. Instead of putting so much emphasis on what you look like (and how strong or skinny you can get) I challenge women to take a step back and look inside. How do you feel? Are you taking care of your body?
Having a strong mind means thinking positively and telling yourself "Yes I can" (even when you're telling yourself "No I can't"). A strong body involves finding an exercise that makes you feel good, challenging yourself and nourishing yourself with wholesome, feel-good foods. And lastly a strong soul means staying true to who you are and not being afraid to stand up for what you believe in.
None of this can be shown by looking at someone, by the number on the scale or by having toned arms. Rather, strength must come from within.
I can't tell you how empowered I felt standing up in front of dozens of ladies sharing what I believe in, doing what I am meant to do: INSPIRE, MAKE AN IMPACT, CONNECT. I am truly so honored that New Balance asked me to be a part of this amazing campaign, and that I fought through my fears and had the courage to say YES.
[mingling with new + old friends alike like blogger Athena from Fitness & Feta]
If you love connecting with like-minded women and getting your fitness on, you won't want to miss out on the next GNO Celebration in Boston on July 22! Registration is not yet open, but information will be available over on the GNO site. You can also follow along on the blog, as I'll be announcing as we get closer to the date!
Stay strong, stay beautiful,
Rachel