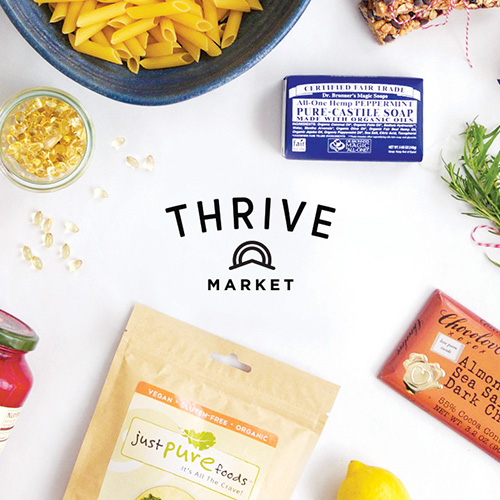 I am not a big spender. I've always been attracted to a very simple life, and tend not to spend lots of money on material things. However, when it comes to good food, I will splurge. I'm obsessed with fresh, local organic veggies and for some reason, it seems I can never spend less than $50 at Whole Foods even if I go in there for like 2 things. Hey, they don't call it "Whole Paycheck" for nothing. 😉
And ever since I took out gluten 100% & started a Paleo-like way of eating due to my autoimmune thyroid disease, my food bills have gone way up. After all, I'm not going to eat all of that "gluten free" junk food or products packed with sketchy ingredients.
So when I learned about Thrive Market — an online marketplace offering wholesale prices on quality, natural, healthy goodies — I was intrigued. After putting it off for a couple months, I finally asked myself "Wait, why haven't I joined already?" and so last weekend I finally hopped on the bandwagon.
I absolutely love what the company stands for, and the brands that they represent (from food & beauty care to baby & home supplies). I was super psyched to see some of my personal favorite brands on their like Bragg, Dr. Bronner's, Acure, Once Again, Wild Planet, Mary's Gone Crackers, Sir Kensington's, Epic, Justin's and Bob's Red Mill just to name a few. The best part? The pricing is always 25-50% off retail!
But what really impressed me is that Thrive gives back to the community. For each person who signs up for a membership, a membership is donated to a low-income family, teacher, veteran or student in need. Seriously, how cool is that?
How It Works 
Thrive Market is set up similarly to a wholesale grocery store like Costco. You're entitled to a 30-day free trial, and after that the cost is $59.95 for your yearly membership fee. That's just $4.99 a month (the cost of a latte), which is nothing compared to the value & savings you get with your membership.
Other Fun Facts:
Shipping is free if your order is over $49
There is no commitment to order monthly – order as much or as little as you like!
Refer a friend & get $25 toward your next order
They sometimes include surprise free products in your order, like the Primal Kitchen Chocolate Hazelnut Collagen Bars they threw in mine!
Save, save save! Everything is 25-50% off retail.
What I ordered in my first Box
My first box arrives any minute now, and I couldn't be more excited! Not to mention, I already saved $70+.
Here's what I ordered in my first box:
can Wild Planet Pacific Sockeye Salmon
Bragg Nutritional Yeast
Primal Kitchen Avocado Oil Mayo
Great Lakes Beef Gelatin (so I can finally make this zuchinni "cheese")
2 bags of Jackson's Honest Sweet Potato chips
4 bags of Inka Chips Plantain chips
NUCO Organic Coconut Wraps (raw, vegan & paleo!)
Rhythm Kool Ranch Kale Chips
Kettle & Fire Grass-fed Beef Bone Broth
6-pack Primal Kitchen Grass-fed Collagen Bars (they included these free!)
My total came to just $41.91, since I had a discount code & got FREE shipping. I easily would have spent close to double the amount in a grocery store for the products I got, so I am one happy camper 🙂
Want to Thrive with me? 
Register for free & get 15% off your first order! I can't wait to hear about all the delicious goodies you're going to purchase.
Note: I signed up to be in their affiliate program too, so I make a small commission if you decide to become a member through my link. 
Happy Thriving!