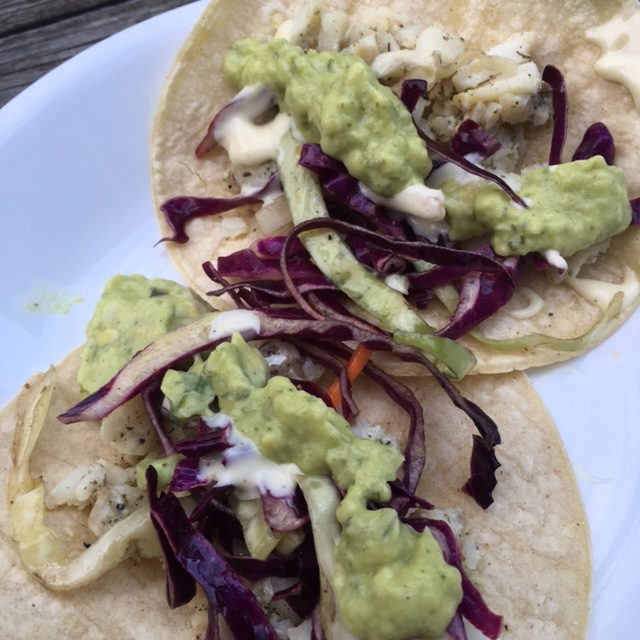 Happy (Fish) Taco Tuesday, friends! With summertime in full swing and hot, hot, hot weather, there's nothing quite like Taco Night that gives me all the feels (especially when paired with a fresh-squeezed marg. 😉 )
These gems are made with pan-seared cod, scratch-made slaw and a to-die-for avocado mint lime sauce for the perfect amount of zesty cool-down. Enjoy!
Fish Tacos with Slaw & Avocado Mint Lime Sauce
1 lb. fresh or frozen cod (may use other white fish of choice)
1 lime (1/2 will be used for the sauce, other half for fish)
1 package slaw mix (I chose one from Trader Joe's with organic carrots & cabbage)
1 avocado
handful fresh mint leaves
1-2 cloves garlic
Extra Virgin Olive Oil
1-2 TB Apple Cider Vinegar
corn tortillas
cilantro, optional
Sir Kensington's mayo (I love the original or avocado oil)
salt & pepper
Cut cod into bite-sized square chunks. Heat skillet with olive oil on medium heat, and add the fish. Stir, then add seasonings of choice. I did salt, pepper, cilantro and the juice of 1/2 lime. Stir until fish is cooked through and flaky. Cover and set side.
In the meantime, blend together avocado, garlic, fresh mint, juice of 1/2 lime and salt and pepper to taste. Add a little bit of olive oil to get the consistency you desire. The sauce should be thin enough to spread but not watery!
 To make your simple slaw, combine 1/2 package slaw mix with 1-2 TB Apple Cider Vinegar, olive oil, salt and pepper. In the meantime, preheat oven to toast corn tortillas.
Lightly toast corn tortillas. Top each one with fish, slaw, avocado sauce and a dollop of Sir Kensington's mayo. Mmm!