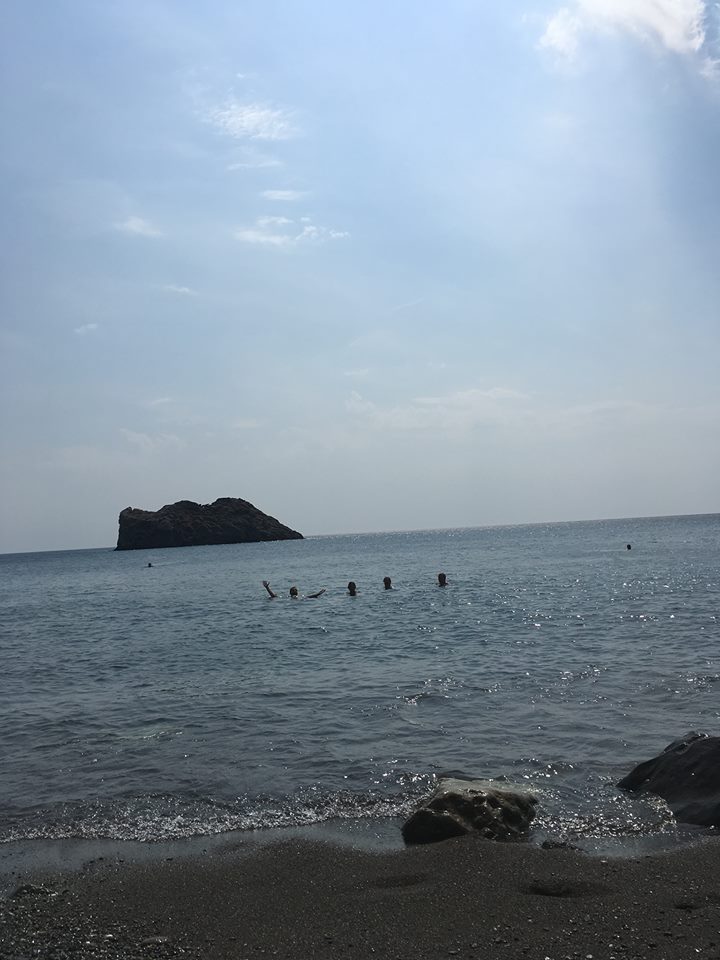 Last August, my husband and I journeyed to Greece for a friends wedding, traveling from Athens to the magical island of Lesbos to celebrate with my dear friends. While there, we were lucky enough to see the Acropolis, swim in the clear blue Aegean Sea, take a private boat ride to dive for sea urchins, dance the night away under the stars and sip on ouzo infused with fresh figs from their family farm.
But one of the things I miss most about Greece is the incredible food. From fresh feta cheese and Spanakopita to Moussaka and Stuffed Grape Leaves, it's safe to say we ate our way through exploring this beautiful country.
One of the Greek staples hubby and I missed most when returning home was our daily dose of gyros. For just a couple bucks, we indulged in the incredible stuffed pitas with juicy meat and scratch-made tzatziki sauce on the regular. Most of the time they were loaded up with french fries too, which hubby especially loved!
Ever since going 100% gluten and dairy free, it's been difficult to enjoy Greek-inspired food. After all, most of their dishes are made with bread and cheese!
When reflecting back on our beautiful vacation, the cravings for gyros kicked in…bad. So I decided to re-create our favorite on-the-go meal with simple, clean ingredients. They're topped off with a vegan cashew tzatziki, created by my Soul Sister Kelley (my friend who was married in Greece). I hope you enjoy these babies as much as we did!
Greek Chicken Gyros with Cashew Tzatziki
Gyros:
2 lbs. boneless, skinless chicken tenders
1 package pitas (I used gluten free)
1/2 cucumber, chopped (use other half for tzatziki)
1 c. red onion, sliced thin
1 c. cherry tomatoes, halved
For the Marinade:
apple cider vinegar
extra virgin olive oil
juice of 1 lemon
2 cloves garlic, crushed
oregano
thyme
salt & pepper to taste
For the Tzatziki:
1 cup raw cashews, soaked
2-3 garlic cloves
zest of 1 lemon
4 tbsp. lemon juice
6 tbsp. water (add one at a time)
½ tsp. salt
bunch of dill
1 tbsp. dried oregano
½ cucumber, chopped
salt and pepper to taste
1 tbsp. nutritional yeast
1 tbsp. apple cider vinegar
Place the marinade ingredients in a plastic bag, and then add the chicken. Allow to sit in the fridge for about 2 hours.
In the meantime, make your tzatziki! Add all the ingredients to a food processor or high-speed blender and pulse to blend, adding water slowly. Then stream in 1 tbsp. extra virgin olive oil and salt & pepper to taste. Transfer to glass dish with tight lid, and stir in 1 tbsp. nutritional yeast and 1 tbsp. apple cider or red wine vinegar.
Once chicken is marinated, pan sear on medium heat with all the juices, until chicken is cooked through.
While chicken is cooking, lightly toast your pitas. Stuff with chicken, chopped cucumber, sliced red onion, and a hearty scoop of tzatziki.
I hope you enjoy these easy gyros! Have you been to Greece? What's your favorite food from another country?