To me, there's nothing so relaxing (and yet oh so gratifying ) as taking the time to create a delicious dinner for yourself. Add a bottle of red wine and some soothing music in the background and call it a party. Last night I had my very own gluten free pizza extravaganza with me, myself and I, and let's just say it was quite the experience.
I started off my evening with some Ingrid Michaelson on Jango, playing various artists like Snow Patrol, Cold Play, The Beatles and Cat Stevens as well.
[source]
As I prepped the ingredients to make the pizza dough using Bob's Red Mill Gluten Free Pizza Crust Mix, I opened up a bottle of a California Menage a Trois Red Wine. Although I am embarrassed to admit, this was the very first bottle of wine I ever opened. Let's just say, I completely attacked the cork. However, I managed to pull through and the wine tasted absolutely fabulous nonetheless.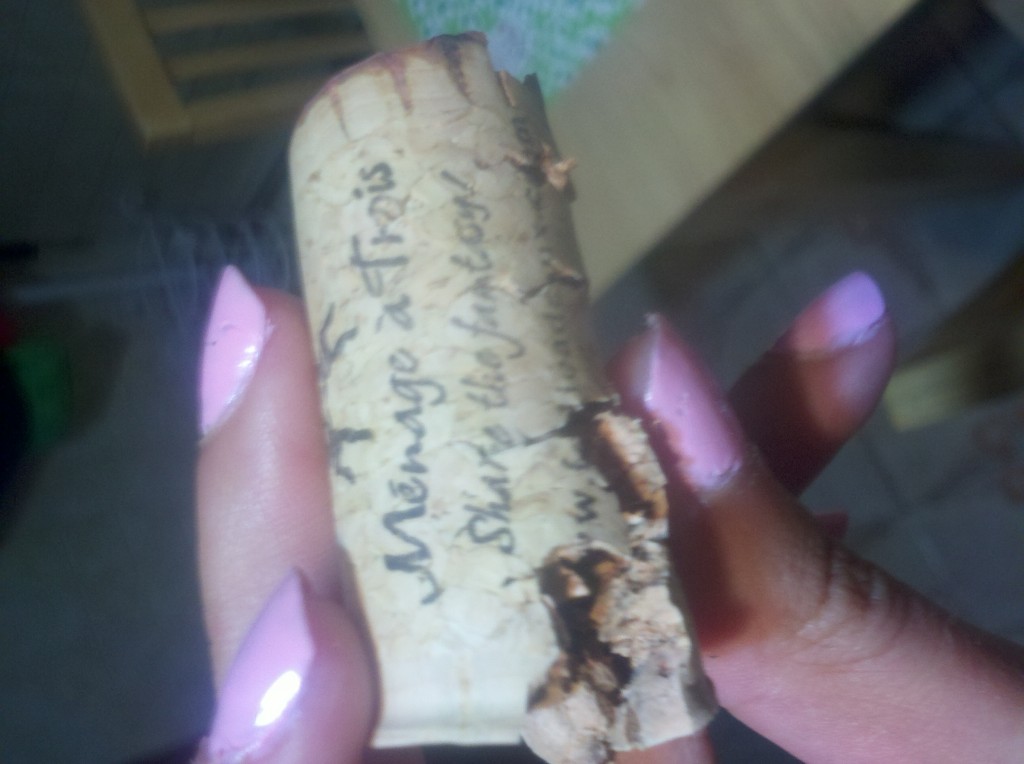 [next time I'll leave the corking to my sister or The Boy]
Once the wine started kicking in, I began to prep the ingredients for the pizza pie! I chose to split the dough into two (one of the options on the package) to create to different types of pizza. The first was a red vegetable pizza with mushrooms, onions, broccoli, garlic marinara sauce, shredded mozzarella, and Italian seasonings. Pizza #2 was a white pizza made with olive oil, spinach, garlic, large chunks of mozzarella cheese, and Italian seasonings.
Once the crust was ready, I topped the pizzas with the ingredients listed above, and popped in the oven for about 18 minutes – just in time for my sister to come home for quite the surprise! The pizzas came out perfectly: crunchy, flavorful, and zesty. While both were delicious, I'd have to give the flavor award to the white pizza (um, hello garlic) even though the red pizza was more filling and packed with veggies. I think if I made the pizza again, I'd add extra garlic to the red pizza as well.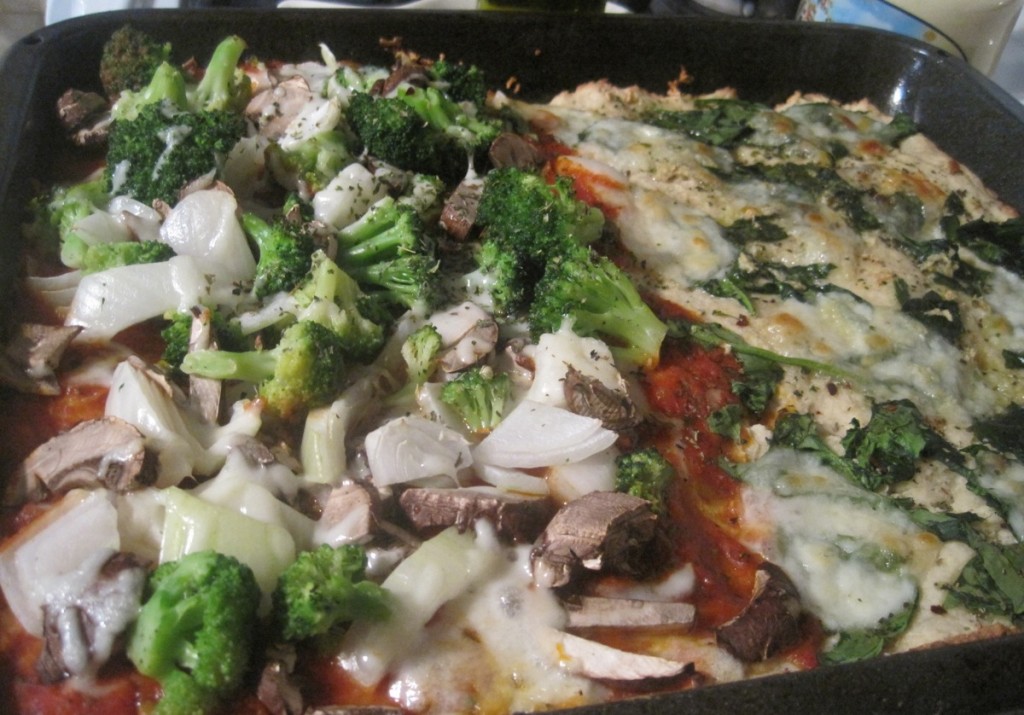 [the pizza is served!]
Do It Yourself:
What Ya Need:
few glasses of red wine (hey, drinking 'n' cooking is a must)
1 package Bob's Red Mill Gluten Free Pizza Crust Mix
2 eggs
olive oil (for pizza dough and toppings)
2 cloves garlic, crushed
1 small yellow onion, chopped
1 1/2  c. broccoli, fresh or frozen
1/2 c. portobello mushrooms, chopped
1 c. baby spinach
1 to 2 cups marinara sauce of choice (add more or less depending on how saucy you like your pie)
1 1/2 c. shredded mozzarella cheese for red pizza, plus 6 thin slices for white pizza
Italian seasonings to taste (a mix of basil, oregano, parsley and red pepper flakes)
1. Make pizza dough following directions on the package, split dough into two and allow approximately 20 minutes to rise.
2. In the meantime, prep the vegetables, cheese, and any other ingredients you choose to use.
3. Once the pizza dough rises, spread on a coated tray and bake in oven for about 10 minutes on 425. Remove from the oven, and top half the crust with the red sauce, vegetables, Italian seasonings and shredded mozzarella. Top the other half with olive oil, garlic, Italian seasonings, spinach and mozzarella slices.
4. Bake for about 15 to 20 minutes on 425, or until the crust is golden. Enjoy!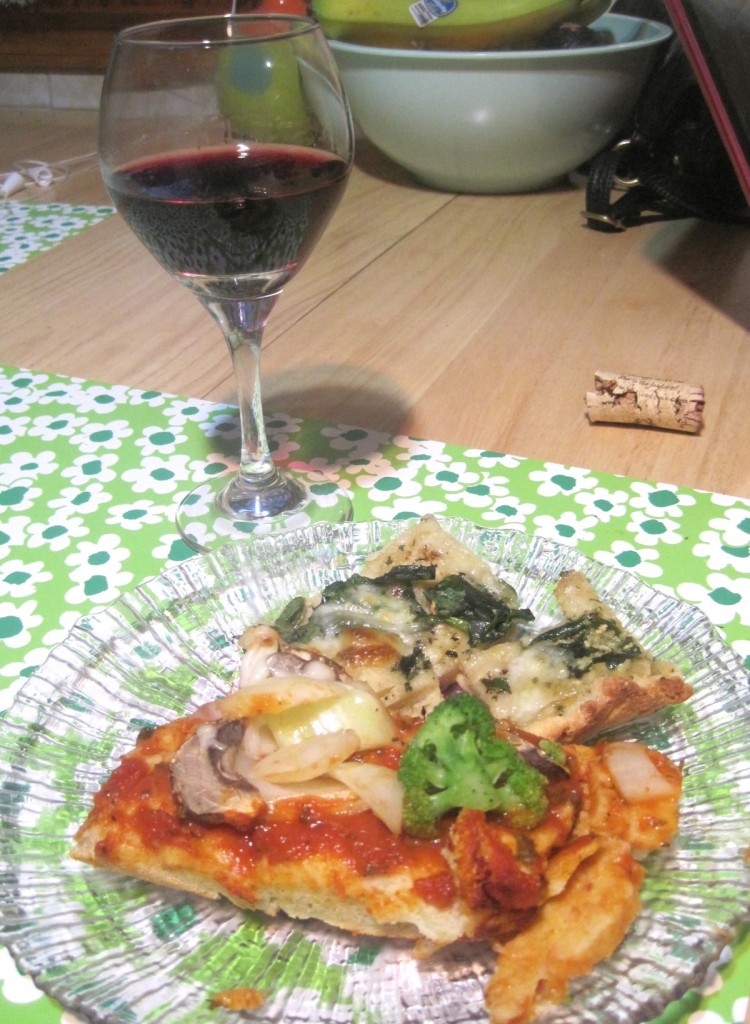 Mangia!