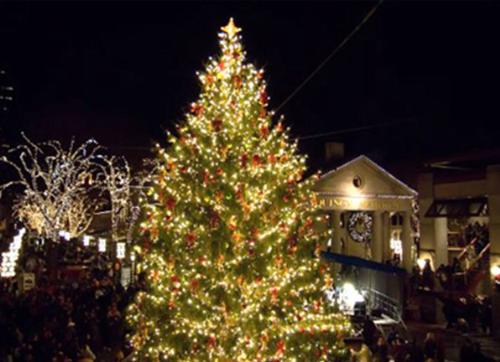 [source] Faneuil Hall Tree Lighting this weekend!
Hey ladies! Sorry I've been M.I.A. all week, but I guess I've been in vacation mode ever since our New Hampshire getaway. But now I'm back in action, just in time for Friday Favorites. Here's what I'm obsessing over this week:
Surfing the internet for tasty Thanksgiving recipes to impress the fam. I have to make a comeback after I made the worst gluten free red velvet cupcakes last year. I guess some things are meant to be left alone, or maybe it's just my poor baking skills.
27th Annual Faneuil Hall tree lighting ceremony this Saturday. I will totally  be attending, and so will Santa!
Cupcake-flavored lip gloss
Red pea-coats
Dad's homemade turkey chili with turkey & sausage meatballs
Snuggling by the fireside with a glass of red
Cleansing – This week, I am cutting out all processed foods, corn, gluten, sweets, cheese, etc. (Pretty much anything that comes in a box or a bag)
This song (Seriously obsessed)
All of the gorgeous holiday recipes lately on Jessica's blog over at How Sweet It Is like these Sweet Potato Pie Cupcakes with Marshmallow Frosting.
Good, ol' fashioned holiday cheer
Indoor workout DVDs. Hey, it's too cold to go outside!
My recipe for homemade Sage & Parmesan risotto, the perfect fall dish.
What are your favorites of the week?
XoXo,