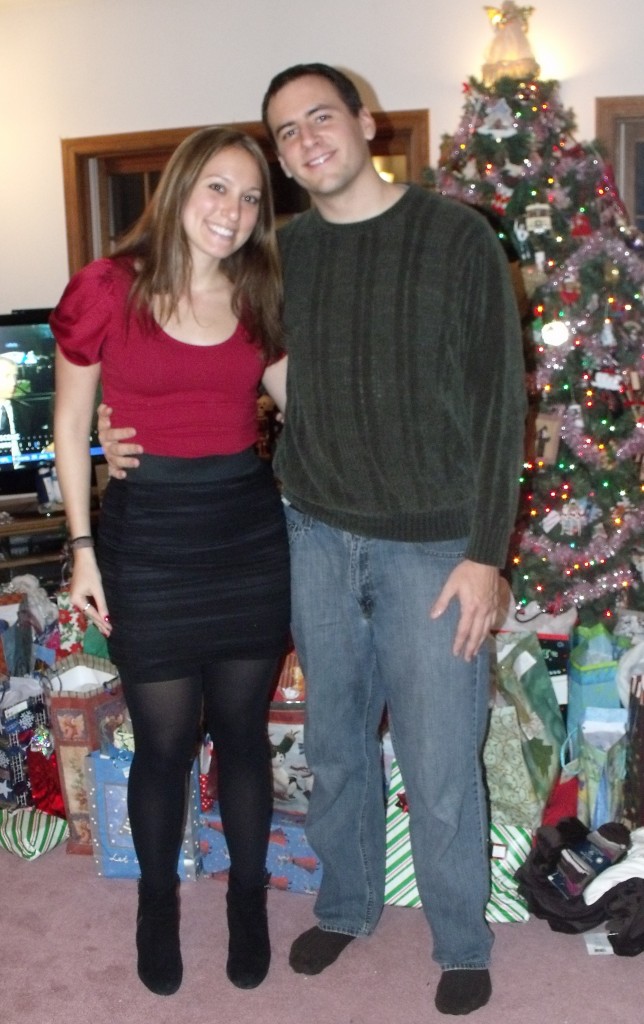 [the boy & I on Christmas]
So as I was looking over former posts the other day, I realized I haven't really given an update on my life (you know, the important stuff) in quite some time now (since JUNE!?!) Of course you hear about my new juicer, love for Core Fusion, must-see movies and all of my crazy adventures in the kitchen, but that's not really all that's going on behind the scene.
In fact, there are probably many things about me that my readers are unaware of, like the fact that I'm color blind with shades of brown, green and red (and my boyfriend was afraid to buy me roses because he thought I'd think they were poop brown), or that I work at Exhale Spa, or that I'm 24 years old and finally in my first relationship, and a great relationship at that.
I'm highly emotional and sensitive, HATE olives and am obsessed with peanut butter, cheese, and tequila.
OK, those aren't really the important things of life, but as you can see there's much more to me than what meets the eye (or my blog).
Like the fact that I'm going to be a certified health counselor in less than 8 months. Yup, I may not talk about it all the time on my blog because a blog is just a blog after all, but I am currently studying holistic health at the Institute for Integrative Nutrition. When I'm not blogging, freelance writing, working out or working, I'm studying my butt off or listening to lectures so that I can follow my number one passion: helping others lead a healthier, more vibrant lifestyle.
I'm sure you've got lots of questions like most of my friends and family, so here are some of the answers.
Holistic health? What the heck is that?
Integrative Nutrition teaches us ways to incorporate a holistic lifestyle when coaching our clients. That means scratching the whole "calories in, calories out," "a protein is just a protein," and "exercise more, eat less" approach, and focusing more on the individual. My health counseling will entail more than just nutrition; I will focus on exercise, lifestyle, cravings, career, spirituality, relationships and mood. Everything contributes to health and well being!
Did you think of any names for your company?
Yes, I've nailed it down to Zesty Living. Fun, fresh and unique.
Who is your target client?
My company is catered to those who have ever felt lost, and are looking to get that "Zest" back into their lives. From new moms who are struggling to make time for themselves to young, busy professionals who are feeling burnt out by the corporate world, I'll be here to help you reach your health & lifestyle goals.
I also want to experiment with corporate wellness (helping business get their employees on track), group counseling, and seminars. And of course I will continue with freelance health writing (with a secret goal of being published in a health-related magazine within the next two years!)
When can you accept clients?
I can begin accepting clients in March of 2012, and can't wait to begin!
What are your qualifications?
I am enrolled in the Institute for Integrative Nutrition, where I will be trained in more than one hundred dietary theories and study a variety of practical lifestyle coaching methods. Drawing on this knowledge, I will help you create a completely personalized "roadmap to health" that suits your unique body, lifestyle, preferences, and goals.
Why are you so passionate about helping others?
I have been passionate about helping others make healthy choices in and outside the kitchen for as long as I can remember. When I was in college, I struggled with body image issues, high-stress, dieting, and low self-esteem as many young women do.
It frustrated me to see the scale stay the same (or go up) and my jeans get tighter no matter how many crash diets I went on, the number of salads I ate, or the endless hours I tracked at the gym. I was not healthy, and more importantly definitely not happy.
It wasn't until I graduated college and starting really focusing on myself that I realized happiness and health go hand in hand. As I began to embrace life and follow my dreams, the pounds starting coming off – and staying off! At this time, I also found a love for home cooking (using REAL, natural ingredients), running and yoga.
After a few months, I reached my "happy weight," a place I had been trying to find for a long time.  I am now happy, healthy and more energized than ever, and can finally say "I love myself" (inside and out) with confidence. But my journey does not end there, as I want to share my love and knowledge with you!
Will you still keep Healthy Chicks?
As of now, I plan to keep updating Healthy Chicks as my personal blog, similarly to what I am doing now. But I will have a new, more professional site for Zesty Living/ all my health coaching services as well.
Got questions? Feel free to email me and I'd love to chitchat about my experience thus far!