On this past Wednesday morning, I woke up to my alarm at 5:45 a.m. as happy as a clam. That is, because I was headed off to the mountains to embark on a journey to Kripalu Center for Yoga and Health in the Berkshires.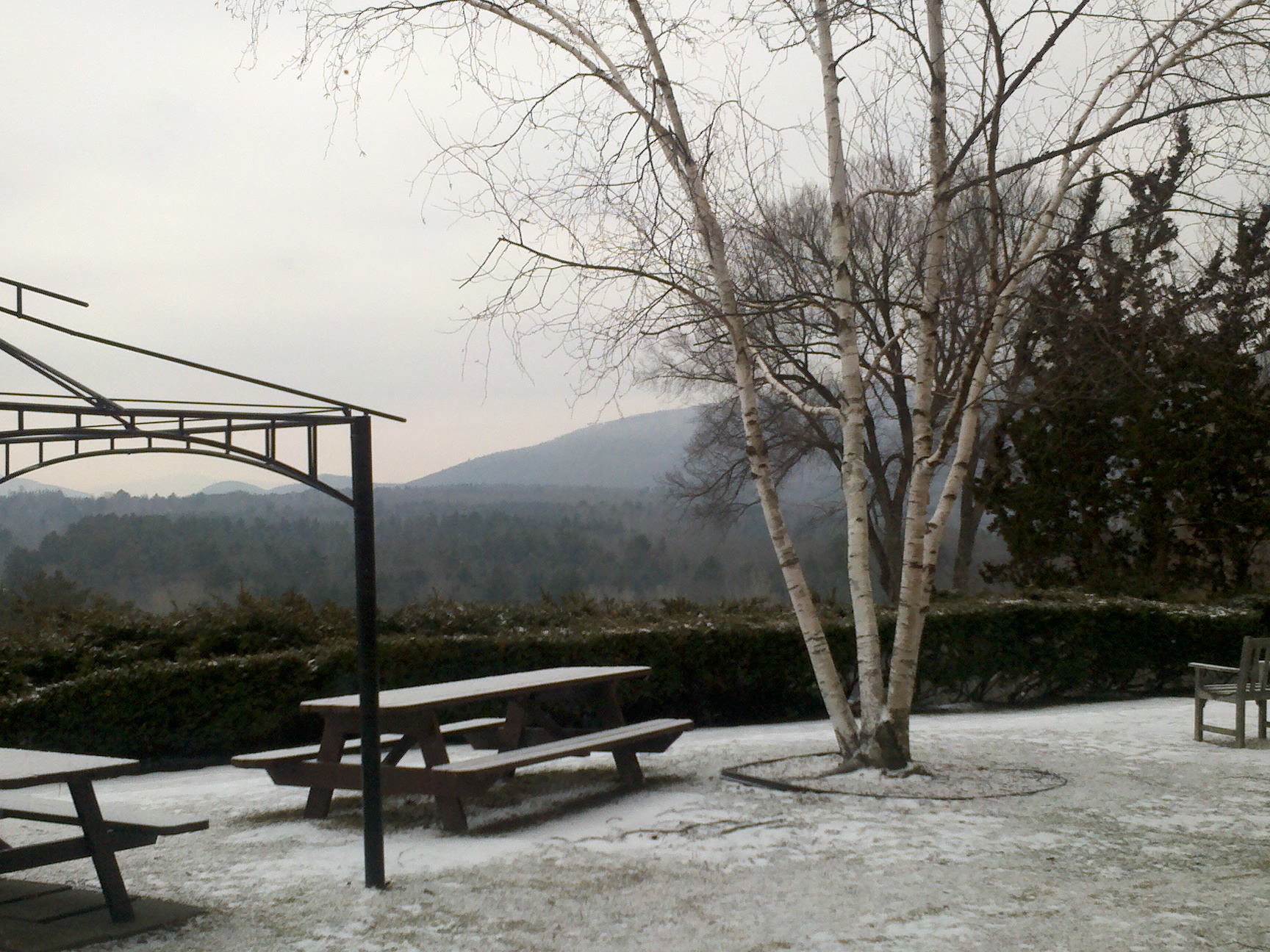 If you haven't heard of Kripalu, it's quite difficult to put into words but I'll try. It's pretty much a hidden escape in the middle of the mountains filled with lots of yoga, meditation, wellness workshops/lectures, nutritious food, spa treatments, and R & R. Pretty much my Happy Place to a T.
My aunt had introduced me years ago, when we took a trip with my sister and mom after I graduated from college. But my aunt and I were back again for round two, this time being much different as I now have a greater appreciation for good food and wellness for the mind, body and soul, which are both important themes at Kripalu. As we drove up through the beautiful mountains, I was just itching to fuel my body with flavorsome meals, and soak up all the information I could in one day!
Upon checking in, the receptionist kindly reminded us that, due to there privacy policy, posting photos on social media is prohibited. While at first I was a little bummed I couldn't take pics for the blog, within minutes I was ecstatic! This meant I could take an entire day just for myself to "unplug" and simply be. No responding to emails. No Twitter. No Facebook. No Instagramming. No typing. Just me, myself and my notebook (oh, and my aunt). Let me just tell you, those  kind of days don't come around very often.
Once we checked in and received the day's itinerary, it was off to breakfast! While I could type thousands and thousands of words about my experience, I've decided to wrap it all up with 10 juicy takeaways instead.
1. APPRECIATE THE BEUATY IN NATURE: Many times throughout the day, we were prompted to pause and simply appreciate the beauty around us. This wasn't hard to do, considering we were in the middle of The Berkshires of Western MA. The sight of snowflakes dancing in the sky was the icing on the cake! Try to bring this into your own life by appreciating the beauty in nature every day, even when you have to look really, really hard to see it. In the midst of the chaotic, unpredictable world we live in, this can help bring you back to reality in a split second.
2. WHAT WORKS FOR ONE PERSON MAY NOT WORK FOR ANOTHER: I say this time and time and again on my blog: we are all created differently and one person's medicine could be another's poison. I so strongly believe in this concept, known as bio-individuality at IIN. During our first workshop, "Ayurveda: A Life in Balance," Ayurveda Guru Hilary Garivaltis ellaborated on this belief. She noted that there are hundreds and hundreds of diets out there, and that many of us have tried a diet that our best friend SWEARS BY, only to have it not work for us (whether we gain weight, feel stressed, feel sick, etc).
This right here is PROOF that we need to be more in tune with our own bodies and what works best for ourselves as individuals. I, for one, have a Vata Body Type and don't do well with a raw foods diet  especially during the winter months (I get spacy, anxious & hungry) and instead eat lots of  warm root vegetables, sauteed greens, healthy fats, gluten-free grains and some meat. However, I know others who thrive on vegan or raw foods diets. Neither is "right" or "wrong." It's what works for you. If your friend is vegan, you don't have to be too! If your mom had success on a diet, you might not. That's OK.
3. WHEN YOU ARE NOT FEELING YOURSELF, SOMETHING IS OFF: To add onto the Ayurveda info above, it's important to know what it feels like when you are your best self. Hilary explained this well, starting with the line we hear so often, "I'm having an off day" or "I don't feel like myself today." Dissect this. Why are you having an off day? What does it feel like to feel "yourself"? What's going on inside? What have you been eating lately? What outside life circumstances have come up? Explore this. Find out your Ayurvedic Body Type here or schedule a free 15-minute info session with me to learn more. This can help you dissect the information & understand more about the way your body and mind works.
4. GET INTO A ROUTINE: According to Ayurvedic medicine, it's best to get into some sort of routine, which is especially true for someone like me (who HATES routine and is all over the place). They recommend going to bed and waking up (particularly at sunrise) around the same time, following the rhythms of nature (and eating according to season), taking time for silence and, what may be surprising to some, eating your biggest meal at lunch. In addition, they promote warm, cooked meals and hot water upon waking as cold or raw foods can be rough on the digestive track at this time.
Getting into a routine is something I'm going to really try and focus on, particularly getting into a regular sleep routine by going to bed earlier, and setting a time during the day that everything shuts down. Being the creative, worker bee I am, it's important for people like me to have boundaries and create some sort of structure. Otherwise, this can lead to stress, anxiety and an overwhelming feeling.
Hilary suggested that I pick a time (around 8 p.m. or so) where I shut down my phone and computer, informing people that I won't be available after this time. This way I can relax, unplug and enjoy the moment without worrying about who's texting me or who needs a response from their email. Being a people-pleaser, I try to respond to everything and everyone RIGHT AWAY, but with an inbox flooding with new emails each day it's important to set some limits here. I'm excited to start this routine on Monday!
5. BRING YOGA (OFF THE MAT) INTO YOUR EVERY DAY LIFE: Our late-morning workshop was entitled  "Yoga Off the Mat" with Life Coach Aruni Nan Futuronsky. I absolutely loved the intimate setting, Q & A and guided meditations throughout her talk. Not to mention her incredible energy; seriously I want to be best friends with this woman! Aruni said that by learning to take little pieces from your yoga practice (like breathing) into your every day life, you can begin to "struggle less and savor the moment." Think about it for a second. When you're in a yoga class and the teacher says to breathe into the pose, we adjust, think about breathing and release some tension. Why can't we take this into our daily lives? Why must it be restricted to one hour on the mat?
Ask yourself, "What's preventing me from fully living in the moment & appreciating the now?" Aruni shared simple techniques we can take into our everyday lives to shift our mindset and help us see the beauty in the present. We also talked about little ways to relax the body and the mind, through medication, journaling, unplugging, gardening, exercise and even just breathing.
6. SET LITTLE REMINDERS TO BREATHE THROUGHOUT THE DAY
Speaking of breathing, we sure did a lot of it during our day spent at Kripalu! We breathed in, we breathed out. We closed our eyes and focused on our breath during meditations, and were prompted to focus on breath-work during our Gentle Yoga class in the evening. I felt so balanced, "on" and at ease throughout the day, partially to thank for all this breathing. And I mean intentional, all-out breathing. We learned that these breathing techniques through meditation can actually help shift the chemistry of the brain! How cool is that?
Take this into your life in small ways or large; for instance you can choose to breathe every time you hit a red light or every time you open your laptop, or take it even further and explore meditation. For me, I've planned to set little reminders on my phone/Mac to remind me to get up, walk around and breathe. Being a freelance writer, blogger, and Health Coach, I am often plugged in throughout the day and time can quickly get away from me. These little reminders will help me be in the moment, relax, clear my mind and even prevent stress before it happens. Who wants to join me in this?
7. TAKE THE TIME TO SIT DOWN FOR YOUR MEAL
How many of you actually take the time to sit down for your meal, without distractions or "life" in the way? This is one of the most common things that comes up with my clients; that is putting everything else first instead of yourself. At Kripalu, we sat down for three, buffet-style healthy meals. In fact, because it was Meditation Week, all of the meals were silent. Yes, 100% silent.
While it was awkward at first, I feel blessed to have been able to eat three, delicious meals with some peace & quiet. Plus, it wasn't hard to be quiet when the food was just that delicious. REFLECTION is so important, and we don't do it enough. These meals were a great time for me to reflect on my life, write, and take in everything I was learning.
ON MY PLATE
Breakfast:
Few scoops of Warm Organic brown rice mixed with Quinoa / Amaranth
One piece Rudi's Gluten Free Whole Grain Bread topped with nut butter
Spicy tofu scramble topped with Cilantro Mint Chutney
Small piece of Curry Quiche (made with Cage-Free Omega 3 eggs)
A couple of almonds
Earl grey tea
Water with lemon
Lunch:
Warm Long Grain Brown Rice with Olive Oil, Sea Salt & Parsley (I topped it with their Charmala Sauce made with cilantro, olive oil, parsley, garlic, lemon juice, cumin, paprika, and sea salt)
Sautéed Kale with Carrots, Almonds, Olive Oil & Sea Salt topped with Gomasio & Dulse
Small Scoop of vegan tofu curry salad, pesto & tuna (I wanted to try a tiny bit of each!)
Shredded beets
Hummus
Cup of Spiced Pumpkin & Butternut Squash Soup
Small piece of Turkey Kibbe (Made with natural ground turkey, quinoa, onions, pinenuts, sea salt, black pepper, cinnamon, allspice, nutmeg and olive oil)
Water
Post lunch: English Breakfast tea with a dash of organic soy, cinnamon and agave
Dinner:
Make-It-Yourself Tacos made with Organic Stone Ground Corn Tortillas (I stuffed mine with Tempeh, Tilapia, a little Baked Haddock, Sautéed Peppers & Onions and Cilantro Rice)
Guacamole
Fresh Salsa
Black Bean Soup
One Gluten Free Brownie (AMAZING!)
Cup of ginger tea
8. DRINK YOUR WATER AT ROOM TEMP
We learned that drinking your water at cold or iced temps (especially during the morning) can be a shock to your body and difficult on your digestive system. Try drinking it warm or at room temp to aid digestion and give your body a bit of a break. I don't like ice cold drinks anyway (since I'm always cold) but I'm definitely going to try drinking warm water throughout the day to clear out my body and support the lymphatic system. Feel free to try this if you can handle it…if you hate warm water, cold water is much better than no water since most of us are walking around dehydrated.
9. BE WARY OF SOY (AND OTHER INGREDIENTS): Like I said before, there aren't "bad" foods or "good" foods, and therefore soy is not "bad" or "good." That being said, soy crops in our country are chalk-full of GMOs (Genetically Modified Organisms) and one of the most contaminated & wide-spread crops grown (along with corn). If you're going to consume soy, look for 100% organic varieties, meaning there are no GMO's.
Also, be aware of the ingredients in your food! Soy in itself ins't "bad." In fact, edamame and fermented soy (like certain tempeh) are a wonderful source of high-quality proteins especially for vegans and vegetarians. However, potentially dangerous, processed by-products of soy like Soy Protein Isolate are sneaking their way into EVERYTHING these days in super high, unrealistic amounts. It's found in protein powders, granola bars, cookies, fake meats, crackers and hundreds of packaged foods. Nutritionist Maryelaine "Mel" Sotos, MS, RD, LDN said that you should be especially careful with soy if you have any thyroid issues as it can disrupt normal thyroid function. Mel elaborated by saying that when a cereal claims "One cup has as much protein as an egg!"  just eat the egg. For me, I always question anything that's not in it's original form. Therefore, when shopping for groceries, ask yourself "Would I find this in nature?" Be a food detective and see just how altered the food is from its original source.
10. LISTEN TO YOUR BODY: While I'm a huge advocate for listening to your body in terms of food, it's also important to listen to your body in all aspects of life. This was touched upon in our evening Gentle Yoga & Meditation with the beautiful Vandita Kate Marchesiello, Director of Kripalu Professional Associations & Teaching for Diversity program.
Her yoga class was one of the most enlightening, beautiful classes I've ever experienced, as she urged her students to move in ways their bodies wanted to move. If you didn't like doing a particular move, you didn't have to. If your back needed a greater stretch, you were prompted to stretch it. Vandita encouraged movement according to our bodies wants & needs.
She explained that while sometimes life throws obstacles at us, we always have yoga and breath-work to bring us back. Be gentle and patient with your body. It's the only one you've got, after all!
Have you ever been to or heard of Kripalu? What did you take away from this post? What do you agree with or disagree with? I'd like to open this up for an honest discussion!