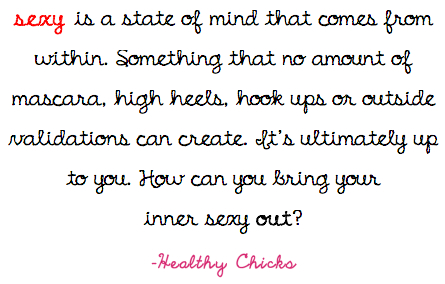 Growing up I didn't pay too much attention to my looks, that is until I started dieting and well, my looks quickly became everything. I was consumed by my weight and how others, especially men, perceived me. Once I started getting attention from the guys, I became obsessed with my looks, in particular appearing "sexy."
I remember one day quite vividly while loading on makeup for a friend's graduation party, my sister (who was always the sportier one in the family) looked at me and said, "You changed." I naturally got defensive, and she continued with "It's great you're getting all this attention and all, but all you care about is your looks."  While I refused to admit it at the time, she was absolutely 100% right. Spot on.
And then there was college. Getting ready for a night out to the frat house was an event in itself. I'd change my outfit at least ten times, load layers of makeup over my face (including a dash of bronzer on my chest one of my best friends swore created the allusion of "cleavage"), and strive to wear the tightest or shortest thing I could possibly find paired with the highest heels I could walk in. (Fortunately for me, that wasn't very high). All us girls would crowd around the thin mirror, competing to get one last view of ourselves before our big debut.
Why did I care so much? Because I wanted to look hot and attractive to the frat boys. I wanted—scratch  that, NEEDED—outside validation that I was sexy enough, hot enough, skinny enough, good enough.  And when I didn't get that validation, I'd automatically blame myself and my body. I'd tell myself lies like, "It must be because I'm not pretty enough" or "I'll never be as skinny as her" or "Of course he's with her. She's gorgeous." I remember one night when I broke down crying on the bathroom floor because the guy I was infatuated with at the time didn't want me back. I blamed myself. My body. My sex appeal.
Back then, I wish I could have written a letter to my former self to tell her that she was enough (in all aspects of life) and that no amount of mascara or number of hookups would ever make you happy from within. I wish she knew that sexiness is a state of mind that differs from women to women, far beyond physical attraction.
I'd be lying if I said I don't care a thing about my looks now. I still wear makeup (though not nearly as much) and like to dress up from time to time. There's nothing quite like the feeling you get when going out with polished nails, styled hair and a new dress. However, now that feeling of sexy comes from a different place; it comes from within.
The feeling of sexiness is something you and only you can decide on, and what matters most is how you feel and think about yourself (not your boyfriend, sister, best friend or random guy at the bar). After all, if you are feeling good inside, that's going to shine through on the outside.
Heck, I feel my sexiest after a long run, sweat-stained clothes, hair in my face and all! No makeup. No outside compliments. No judgement or envy. It's times like these, when no one else is even around to see, that I feel my ultimate sexy self. And you bet that confidence carries through with me the rest of the day—to the coffee shop, through my writing, in my home life. That right there is a perfect example of bringing that inner sexy out. Let it shine, baby!
Sexy has so many different colors. It's that feeling you get from crossing the finish line during your first 5K, the confidence boost you get from working hard on a personal project, the utter state of bliss that overcomes you when walking barefoot on the beach as the waves crash beneath your toes. It's feeling beautiful in your own skin, the magic moment of a perfect kiss, and experiencing the most powerful savasana of your life.
So I ask you, how can you bring your inner sexy out for the world to see? What makes you feel your ultimate best? What does sexy mean to you? As always, I'm happy to hear your feedback or answer any questions you may have via email. Learn more about my innovative health coaching services & grocery store tours over here.