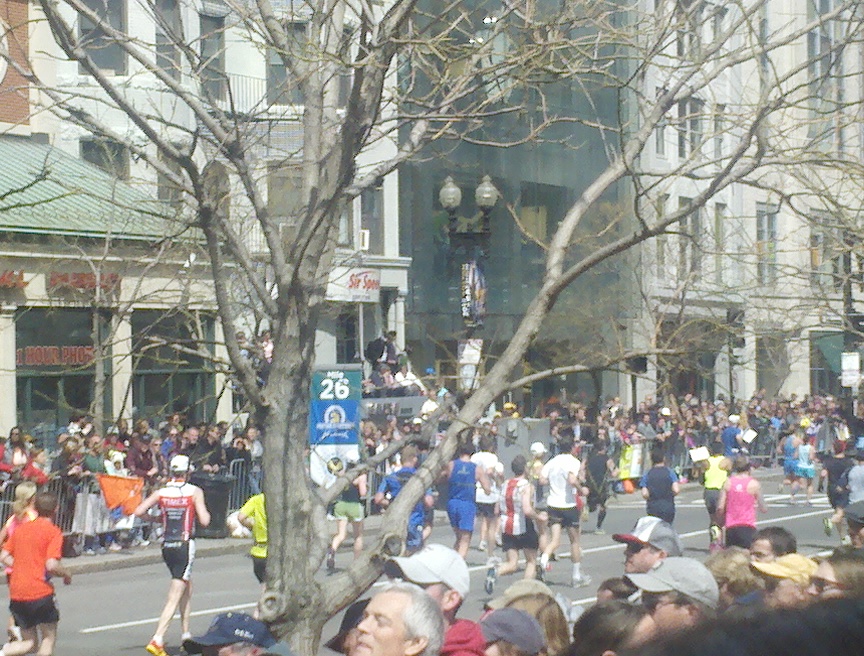 This was the one photo I snapped during yesterday's Boston Marathon.
It's one of my favorite days in the city, a day that makes me proud to be a Bostonian, a day that makes me contemplate to run a Marathon one day myself. And for the past 4 years, I have gathered with friends and loved ones to watch at my go-to spot: the Finish Line. This year was extra-special as one of my friends was running her very first 26.2.
The Finish Line is a place you see strength, love, dedication, power, and victory. A place where families and loved ones come together to celebrate. A place where runners have their moment. A place where I always find myself tearing up seeing the faces of pure accomplishment.
Unfortunately, yesterday's tears were tears of sadness, not joy; hugs of fear not celebration. As you can see in the above photo, I was right at mile 26 when the first bomb went off. Like most, I was startled at first but thought it may be a cannon or a celebratory gun shot. When the second bomb went off less than a block from where I was standing, I knew I had to get out…fast. I just had a terrible feeling take over me…I knew it wasn't good. What if we're next?
As I stood there shaking in complete shock, I completely lost it. As those around me were screaming, running or consoling loved ones, I tried to make a phone call to my parents and boyfriend. I truly thought that was it for me, a feeling I just can't describe. I turned around and realized that I had lost my two friends who were with me. Officers kept telling us to get as far away as we could, urging us to get off the streets, and so I ran. I ran for my life…all the way home to my Cambridge apartment…in flip-flops.
When I got home, I prayed. I thanked God that I was alive, that I was now safe. And I prayed for those who weren't as lucky. While I am still pretty shaken up, as you can imagine, I am feeling an unbelievable sense of gratitude and love.
I feel gratitude for:
-The fact that my two good friends were there with me during the aftermath
-Making it out of there alive
-That all of my friends and loved ones in the area are safe & sound
-That I was able to contact my boyfriend about an hour later, knowing he too was safe
-For the moment I was finally connected with my parents and sister, who were extremely worried for me
-Standing right where I was, instead of seeking a closer view
-Everything I have…life is certainly precious
I feel Love for:
-All of those who don't feel safe
-Those who were injured & killed
-Those separated from their families
-Brave spectators who rushed toward the explosions in order to treat victims (some even removed clothing or ran straight to donate blood)
-The runners who ran, finished and weren't able to finish
-Our country
-The city of Boston. My city.
I am forever grateful. Much love & prayers go out to those who weren't as lucky as me…