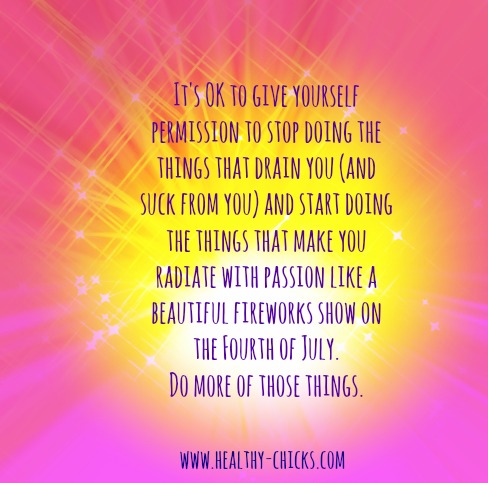 Last week, I was meeting with one of my clients talking about goals, dreams and all that good stuff. I really like to get deep inside the eyes of my clients to find out what drives, motivates, and really lights them up. When we got to the part where we discussed any blockages or things getting in the way from living the life of her dreams, she simply said "My weight." In fact, "Lose weight" was at the top of every to-do list she had ever created for herself.
I then asked her what she'd be doing, eating, living, seeing, being if her weight was not a factor in living the life of her dreams. I soon found out that not only was her weight holding her back from being comfortable in her clothing, but it was preventing her from doing things she truly loves like connecting with people on a deeper level, taking zumba classes and being truly happy in her own skin.
That right there was a huge wake up call, one that she needed to see. One that we all need to see every once and a while. So what did I have my client do? I had her re-write this to do list, only there was one catch: she wasn't allowed to make any of her "to dos" and goals have anything to do with her weight. This took a lot of work…and courage on her part. We often don't take the time to look within and ask ourselves what we truly want.
After doing this exercise with my client, I myself have been slowly by surely re-thinking my "to dos," getting rid of the things that annoy & block me, while filling up on the things that make me light up and radiate with passion. Then yesterday I stumbled upon this interview with Danielle Laporte, one of my favorite tell-it-like-it-is motivational gurus.
In the interview, she recommends people to make a "Stop Doing" list. I had to think about this one for a second. And then after 3 seconds, I thought "Brilliant." While I still have a way to go, here are 7 things I am putting on my "stop doing" list starting now.
1. Stop saying "yes" to people when you really want to say "no."
2. Stop over-booking, over-working & putting everyone else before "me time." Time to amp up the self-care baby!
3. Stop playing small & telling myself I am not "good enough."
4. Stop hiding my amazing, creative ideas. Implement them! Take risks! DO IT!
5. Stop worrying & comparing, start doing & being!
6. Stop getting consumed by social media & block off times for creativity. It's time to shut down when I say I'll shut down. Write my ideas with a pen & a notebook.
7. Stop being a people-pleaser. You can't (and won't) please everyone. BE YOURSELF!
So there you have it. It's OK to give yourself permission to stop doing the things that drain you (and suck from you) and start doing the things that make you radiate with passion like a beautiful fireworks show on the fourth of July. Do more of those things.
Do you need to re-think an old to-do list? What's on your stop doing list?