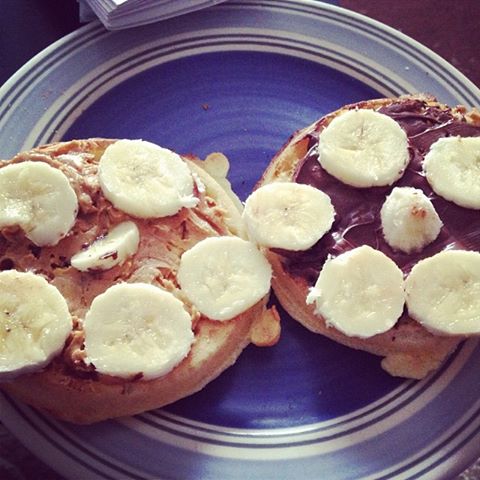 [smile! no you don't have to give up your fave foods to lose weight!]
Usually one of the first steps people take when trying to lose weight and create healthy changes is eliminate "bad" foods or eat less. Cut out chocolate. Eat less meat. Give up soda for good. Skip lunch.
Heck, during my years of dieting (when I was eating diet, low calorie crap mind you) a nutritionist actually told me to eat less calories. "Calories in, calories out!" she cheerfully shouted, something I will never, ever forget. In reality, if she actually looked at what I was eating, simply "Eat more real food" would have done the trick.
It saddens me to see so many young women going on super-restrictive diets in order to get that dream body and feel better about themselves. I'm telling you right now: deprivation & cutting back is not the answer.
For one, I don't believe in "bad" foods. Food is food & it doesn't have a feeling attached to it – it either nourishes your body or doesn't but that doesn't make it "bad." Secondly, when we deprive ourselves we typically want more of said food in which we either ignore the craving or end up binging late-night leading to a big fat guilt trip. And lastly, when we eliminate or cut back on the foods we love, it makes healthy living seem like a dreadful punishment. Where's the fun in that?
Instead of cutting back or starving yourself when trying to manage your weight, I recommend another approach: eating more food. No, I'm not saying to go order Chinese takeout or binge on donuts to your heart's desire. I'm talking about eating more high-quality, energizing REAL whole foods.
You see, when we add in more of the good stuff, we simultaneously (and painlessly) weed out the not-so-good stuff. After all, I'm a firm believer in baby steps when it comes to long-lasting positive change.
Make sense?
Here are a few simple ways you can begin "weeding out" without the headache & deprivation:
Order your pizza with extra veggies to amp up the greens & nutrients – it'll fill you up quicker and you'll end up eating less because you'll be satisfied nutritionally
Rather than boring iceberg lettuce salads, try playing with various leafy greens, avocado, colorful veggies, local cheeses and proteins like hard-boiled egg, quinoa, grilled chicken or fish. For dressing, choose a high-quality olive oil with fresh lemon, garlic, and balsamic vinegar
If you normally eat your oatmeal plain or packaged, try making your own oatmeal with whole rolled oats & amp it up by adding berries, banana and spices like cinnamon or nutmeg. Be sure to get your protein in by adding all natural nut-butter, flaxseed or pairing it with an egg on the side
Add dark leafy greens to your morning scrambled eggs – cook in coconut oil for an extra-tasty healthy delight!
After noon, swap late-afternoon coffee trips with herbal tea to keep your caffeine levels in check & blood sugar levels stable
Drink more water – aim for half your body weight in ounces of water & keep a reusable water bottle with you throughout the day. This will help keep you hydrated & your cravings in check
Swap your soda with naturally flavored seltzer water infused with fresh berries – start small by swapping one can a day, and work your way up!
Use gentle, natural sweeteners like agave or coconut sugar instead of artificial sweeteners or processed sugar
Experiment with making your plate 50% – 75% veggies & think of the other portion as the "side dish"
Add healthy fats to your dishes such as avocado, coconut oil, olive oil, flax seeds & nuts
Spread nut butter & fruit onto your toast, bagel or waffle for a protein + antioxidant boost instead of just eating it plain
Eat healthy, high-quality snacks throughout the day like raw nuts, fresh fruit, almond butter wraps (heat the wrap before hand to soften), hard-boiled eggs, veggies & hummus, greek yogurt with fruit etc.
Try out dark chocolate or fresh fruit (or even better dark chocolate covered strawberries) vs. processed candies & desserts to curb your sweet tooth!
Give your bread a makeover – check the ingredients in your bread and see if you need to check yourself! I LOVE ezekiel bread, a flourless b read made from sprouted grains & good-for-you nutrients
How can you begin making healthy swaps & "weeding out" this week?