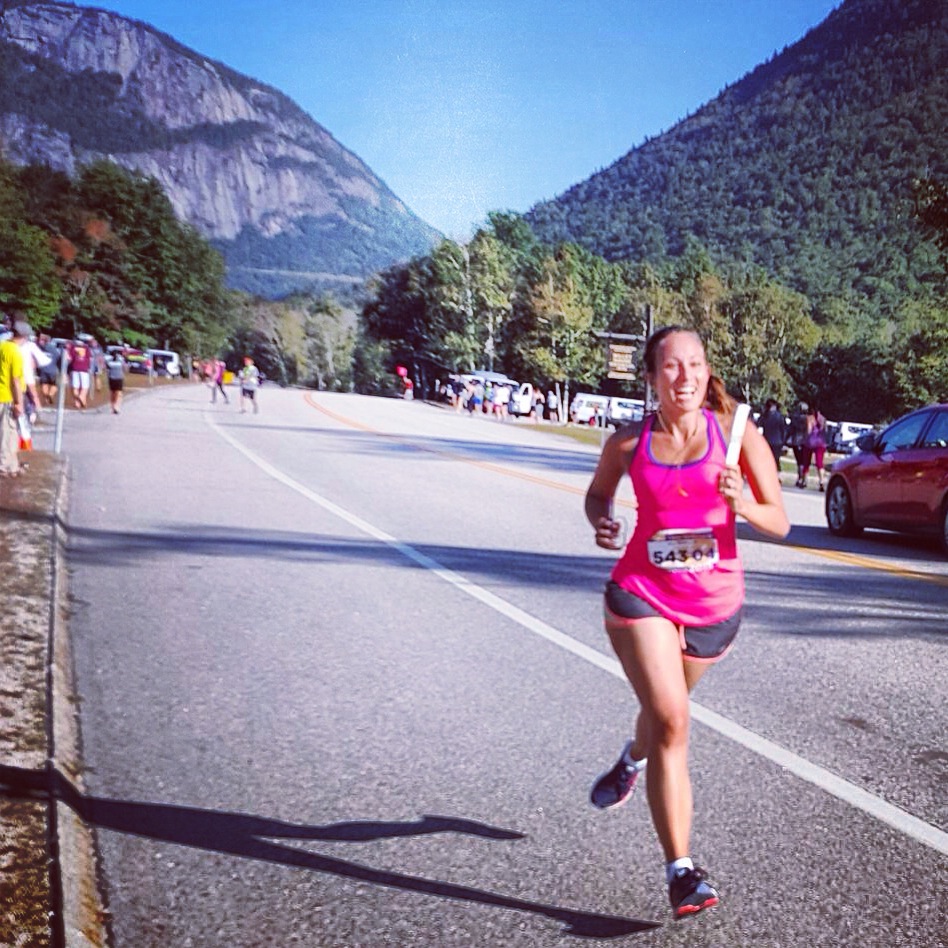 This past Friday, my alarm went off at 5:30 a.m. to kick off Reach the Beach weekend! Our first runner was about to begin her first leg, and our team woke up bright & early to cheer her on at the start of the race!
For those of you who don't know, Reach the Beach is a 200-mile relay race, starting in the Bretton Woods ski area and ending at Hampton Beach. A traditional team is made up of 12 runners, where each teammate runs 3 legs of the relay. I was lucky enough to be a part of New Balance's media team #NBGirlsRunBeta with 11 other fabulous bloggers and editors.
15.1 miles run, 2 vans, lots of peanut butter, hills galore, 11 new friends, loads of laughs and 200 total miles to the beach later, I'm now back in my Boston apartment recovering and reminiscing on one of the best weekends I've had in a while! If you're considering running a similar relay race or perhaps want to participate in Reach the Beach next year, here's what you should know. (Stay tuned for a full recap on the blog soon!)
1. Pack more than enough outfits! Seriously, you are going to sweat a lot. You are going to think maybe just 1 or 2 sports bras will do, but they won't. Come prepared for any & all situations! Rain…Wind…Humidity…Being freezing in your van at 2:00 a.m…Soggy sneakers. You must take all of this into account, as a 200 mile relay race is very different than your usual one-day event.
Have fun with colors, and most importantly pack apparel that you're most comfortable in. Lucky for us, we were given multiple outfits courtesy of New Balance to sport throughout the weekend, including tanks, tees, running capris, shorts, sports bras, socks, and even sweat pants to lounge in between legs!
We were told to pick our outfits out ahead of time, and place them in oversized plastic bags. That way, you're not scrummaging through your duffel at the crack of dawn, and you've got an empty bag to stash your dirty clothes post-run. Win, win!
2. Pace yourself This one's a biggie. With all the excitement & hype, you may be tempted to run much faster than you normally do! I totally experienced this during my first leg, which was just 2.9 miles and mostly downhill. But you need to remember that you'll still have 2 legs left..and you don't want to kill your batteries too quickly!
Try to maintain your normal pace, and check in with how your body feels. No need to push yourself over your limits!
3. Teamwork is everything. One of my favorite parts about Reach the Beach was the fact that you do everything with your team! There is so much teamwork going on throughout the two days, from communicating to the other van to tell them where you're at to supporting your fellow runners when they're feeling tired, hungry, sore or simply in need of a hug ;).
In our van, one of our lovely runners Jess (Little Miss Runshine) traded legs with the beautiful Kylie (of Shape magazine) so Kylie wouldn't have to run more miles than she had trained for. Teamwork at its finest!
4. Stretching between legs is key! To be completely honest with you, I'm usually really bad at stretching. In fact, I typically don't do it at all before or after my runs…unless you count my yoga classes! Not good, I know.
This past weekend, however, I knew that stretching was going to be key if I wanted to survive my 3 legs. So stretch I did! I made sure to get outside of the van, stretch between my runs, and move around. Having a foam roller and stick on hand in our van was also pretty clutch, and I highly recommend it for any of you taking part in a similar relay race!
5. Be sure to properly hydrate + fuel I was a bit nervous about how to fuel throughout the weekend, as I've never done anything quite like this. Sure, I know what my body likes to eat before a half marathon, but never have I had to run 3 times in 24 hours. This was totally something brand new for me!
For breakfast the first day (around 7:00 a.m.) I decided to keep it simple with some fruit, a little bit of banana bread and lots of water since I had a run coming up in the next couple of hours. After my run, I enjoyed a delicious "Sunrise Bowl" with scrambled eggs, cheddar, onions, mushrooms, spinach, avocado and garlic served on top of some homefries. It was absolutely delicious, and fueled me until the afternoon, where I had a peanut butter rice crispy treat one of my teammates had made. I was now ready for my hilly 6.5 mile night run, the most challenging of the 3!
After that, I enjoyed a string cheese and an apple before I took a 4-hour "nap" to get ready for our morning runs. Before my last run, I had some peanut butter and a banana which was just what my tummy wanted. Between runs, we enjoyed some not-so-healthy snacks too including Cape Cod chips, pretzels and Cheezits. I will say, they totally hit the spot as salty snacks were just what I craved post-run!
Once I was finished, we went out to lunch and I thoroughly enjoyed my salad topped with chicken salad, with a side of fried calamari. YUM!
Moral of the story? Do what works for you, and don't try to experiment with anything new for your first relay race! Also, make sure you're eating enough and drinking a TON of water throughout the 2 days. I can't stress that one enough!
6. Keep it clean. Living in a van for 1.5 days can get pretty messy! To keep the stink to a minimum, our van came prepared. For one, we bought several air fresheners to use throughout the weekend, which made a huge difference! I also made sure to pack wipies, facial cleansing cloths and of course deodorant to freshen up between legs. Once I finished a run, I made sure to wipe down, and then change into a fresh pair of clean sweats so I never felt super gross throughout the weekend. Come prepared with all your favorite essentials, and you'll be just fine!
7. Try to get some sleep I'm not going to lie, it's hard to sleep in the midst of all the excitement but it's oh so crucial. I made sure to take quick naps between runs, and our team was lucky enough to get about 4 hours of sleep during the middle of the night while Van 2 finished up their second legs. Big thanks to New Balance for bringing along sleeping bags for us to use throughout the weekend! It wasn't like sleeping at home in your queen bed, but considering the circumstances, it felt pretty damn close to it. Rest up…your body will thank you later!
8. Have fun! Last but not least, remember to have fun! Don't take yourself too seriously, and do your best to enjoy the ride. Driving around in a large van with 5 other girls you don't know can sound a bit intimidating at first, but it's actually a blast! Try to let go of your competitive edge a bit, and remember Reach the Beach is about teamwork, supporting one another and doing the best you can.
Have you ever participated in a relay race? What are some must-know lessons you learned on your journey?
Note: I ran on the New Balance media team, and we were given all accommodations, gear, food and amenities free of charge. However, I was not paid to write this post and as always, all opinions are my own.