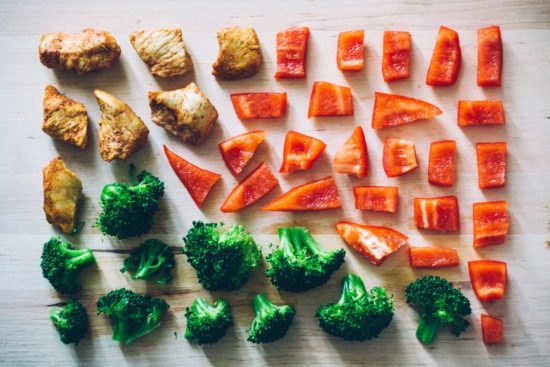 Are you a meal-prepper? It's come to my attention that meal prep Sunday is a new thing lately, you know kind of like Football Sunday but for chicks who cook. I'm not against it or anything, but personally I'm not a fan of meal prepping on Sundays.
I think part of the reason is because in a way it reminds me of my years of dieting, calorie counting and meal planning. I'd dissect every last bite and was so mathematic when it came to my food. It made me stressed, guilty & anxious. I always knew exactly what my next meal would be, when I would eat it, and how many calories I'd be consuming. In fact, it's all I thought about.
When I quit dieting, I decided I deserved to feel JOY around food. I didn't want it to feel in any way like it once did in college. I wanted to associate food with family, love and nourishment. I wanted cooking to be fun, sexy and experimental.
Nowadays, I'm super chill around food. I buy the ingredients I love (and that my body loves!) so my fridge is stocked up, then go by how I feel during the week! This way, I can tweak recipes as I see fit and eat what my body is craving (versus what it says I should eat on some post-it note.) I LOVE experimenting + having fun in the kitchen, so this way works for me!
The other night, my body was craving warm & cozy, so I whipped up a sweet potato, carrot & kale soup with ground turkey…with lots and lots of garlic. Yesterday I had an urge for meatballs, so I opened up the packge of ground grass-fed beef I had on reserve for dinner and mixed in garlic, onion, sea salt and cilantro to bake up some healthy & clean meatballs. It's all about creating and going by what you're in the mood for in my kitchen!
At the end of the day, ya gotta do you.
What about you? Are you a meal-prepper or do you just eat random foods throughout the week? I'd love to hear from ya!