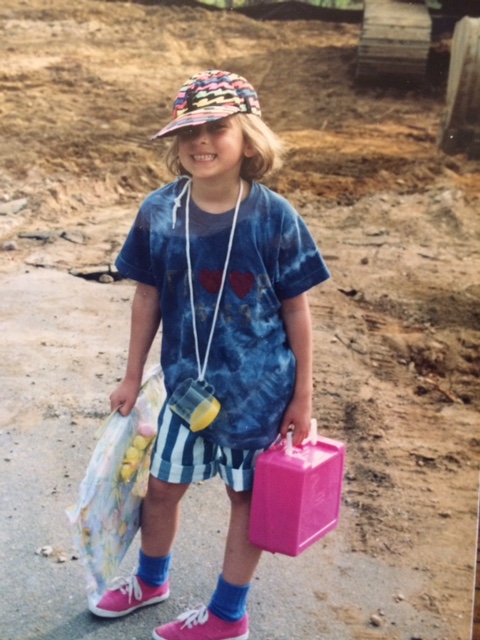 Last week when I was chatting with Beth Hopkins of Shamanuti for an article I wrote for Well Insiders, we got to talking about the things that brought us the most joy as a little girl. Beth told the most beautiful story of how at just five years old, her and her cousin would make floral waters to sell to friends of her grandparents and the local community of the Gardener's Cottage she grew up in. Each year, she'd wait for the violets and lilacs to bloom, since those made the loveliest waters.
Little did she know that years later her passion for hand-crafting floral waters would lead to the start of her business, Shamanuti, which specializes in natural products utilizing plant-based ingredients found in nature.
It's funny how our passions as a little kid tend to stick with us, and perhaps maybe we should think more often about what made us happy growing up. I too had a similar story as Beth, and was inspired to dig a little deeper last year when gearing up to leave my full-time job.
I vividly remember sitting with my Energy Healer Katie, pouring my heart out to her about feeling stuck and "not myself." I felt trapped in a lifestyle that didn't feel right for me, yet I didn't know how to escape it. I'll never forget what Katie said to me that day: "Think about that freedom you felt as a little girl. Focus more on that." 
I never really thought about that before, but throughout the next few months I really focused on what brought me the most joy as a little girl. It took me back to the days I would play outside barefoot in the yard building forts and secret pathways out of leaves for "hayrides" with my sister.
I giggled as I recalled my "bag lady" tendencies collecting little trinkets and knickknacks — from stones to stickers — that I'd stash away like golden treasure in my pocketbook. Or the Christmas when I was about seven that I so excitedly crafted my sister a necklace out of paper (which was also wrapped in paper). When she opened it up, she said "There's nothing in here!" "It's a necklace! You just need to string your own beads," I replied enthusiastically.
It was never about the material things for me. 
As I continued to look back, I was reminded of my love for finger-painting and coloring, even though I couldn't draw for the life of me and my paintings always came out a little silly since I'm color blind. One time in art class, I painted the leaves brown and the tree trunk green and still thought it looked beautiful. I also loved writing more than anything, and would write almost every day. I'd write magical tales, "novels" with chapters and I didn't go a day without gushing about my latest dreams and crushes in my diary. I loved helping my grandma cook, playing dress up and building sandcastles on the beach.
I was free. I was happy. I was curious and ever so creative.
When looking back a year ago on my life at the time, I felt the exact opposite of how I felt as a little girl. While I was challenged with work and truly loved what I did for a period of time, I no longer felt passionate. My body felt burnt out, and my overall wellness was starting to diminish, which is a huge red flag for me seeing as though that's what I preach. I wasn't creating anything with my hands, and my writing almost came to a complete halt. I felt tired, stuck and creatively unmotivated. I was making pretty good money with a decent salary and benefits, but I felt I didn't even have time to spend the money on the things that lit me up.
Right before I quit my full-time job, I wrote an intention for myself: "I want to feel free, abundant and radiant." I didn't know how I'd get there at the time, but I knew that's what my heart desired.
10 months later, and I'm amazed by the things that have begun to manifest into my life. I now work 100% for myself without a salary or benefits, and I'm actually not dead broke (like I thought I'd be). I have enough, and have become incredibly comfortable living a "simple life." It feels right.
I teach wellness workshops, and write nearly every day, be it on the blog, on my instagram or for a freelance assignment. In fact, just last month I was published in SHAPE Magazine! I've developed an immense love for social media, and helping small companies tell their stories through photos and the written word. I create my own schedule, saying yes to the things that light me up and no to the things I truly don't want to do.
I finally brought a creative dream of mine to life by creating my own positive affirmation deck: Spark Your Bliss. The response thus far has been absolutely incredible and I can't wait to see where this journey takes me. I cook scratch-made meals for my husband and I nearly every night, and find so much joy playing with new ingredients.
I make time for self-care, and started going to acupuncture, joined a women's collaborative at She Breathes and pamper myself with essential oils and natural beauty supplies on the reg. I love buying plants and fresh wild flowers to jazz up our apartment, and make lots of time to play and "do me."
I am free. I am happy. I am curious and ever so creative. I am the little girl I once was at seven years old. Or maybe I always was, and just got a little lost along the way. 
If you're looking for answers and feeling a bit stuck in your life, I highly urge you to look back at what brought you the most joy as a little kid. You may just find some of the answers you've been searching for. And it's absolute magic.
What brought you the greatest joy as a little girl? How can you incorporate some of that into your life today?